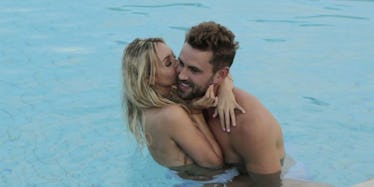 Nick Viall Was 'Uncomfortable' When 'Bachelor' Contestant Whipped Boobs Out
ABC
Honestly, every "Bachelor" fan was a little uncomfortable, too.
"The Bachelor" contestant Corinne Olympios made a shocking, ballsy move when she decided to take her top off in the middle of a photo shoot while frolicking in the pool with the Bachelor himself, Nick Viall.
While everyone, Nick included, was shocked to see the 24-year-old whip out her boobs so early in the competition and, you know, in front of all the other ladies.
Naturally, Nick gave Corinne the group date rose because boobs, that's why.
However, in a recent interview with Entertainment Tonight, Nick claimed he was "uncomfortable" with that much freeing of the nipple.
Nick said,
I think you even saw on the show that I was sort of caught off guard, and quite honestly, I was a little uncomfortable, but I like people and women who are expressive and confident and willing to take risks. I think we should be careful about judging and criticizing people so quickly for doing that.
OK, so first, he's saying he was "uncomfortable."
Then, he's all like, "Do not judge lest ye be judged also do not throw a boob if you live in a glass house."
I'm paraphrasing, people! RELAX!
Nick went on to talk about Corinne's motivation for her aquatic striptease. He added,
Corinne was in the moment and certainly was being guided by the photographer and I don't think she meant anything by that, but I was a little bit uncomfortable.
Of course, anyone with the bird's eye perspective knows Corinne is literally the villain of the show.
I mean, come on. Corinnne is 24 years old and still has a nanny; Corinne said her dad would be "proud" of her taking her clothes off. Corinne is a...
Like, RUN.
Someone get Nick to a safe house and inform the Witness Protection Program it has another person to give a new identity to.
Citations: EXCLUSIVE: 'Bachelor' Nick Viall Admits He Was 'Uncomfortable' When Corinne Took Her Top Off (Entertainment Tonight)