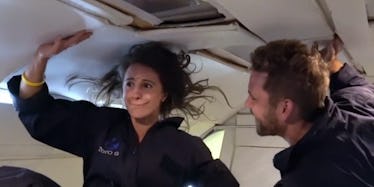 'Bachelor' Contestant Pukes On First Date With Nick Viall In Mortifying Video
E!
Turns out, Monday's episode of "The Bachelor" is going to let us down tremendously, once again, in the zero-gravity barf department.
For some reason, "The Bachelorette" can show two mannequins awkwardly smashing their plastic mouths while they grab at each other's display-only leather jackets…
… but "The Bachelor" won't air a simple spit take that, yes, would feature a load of vomit suspended between two totally different mannequins.
These beautiful mannequins.
Vanessa looks pretty nervous, huh? She also looks like she's doing everything in her power not to launch a steaming bowl of bile soup straight from her mouth to Nick Viall's face.
In a promo for Monday's episode of "The Bachelor," Vanessa tries to be a space cowgirl on a Zero G flight, but cannot seem to keep her Eggos in her Eggo basket.
During an interview segment, she tells viewers,
I'm nauseas and I'm worried this is gonna ruin the perfect first date, the perfect first moment... This is horrifying. I'm not in control of my body... I'm mortified. 'Don't puke'... I want to get down on the ground, badly.
Eventually, we do get that hot saucy spit take we hoped for, but it lacks the pizazz of a Zero G vom.
No one's really that interested in seeing a beautiful, poised woman discreetly blow chunks into a designated waste receptacle.
The world needs to see a man, a woman and her sprawling puddle of regurgitated morning toast gently floating around like all three are wasted off that Fizzy Lifting sizzurp.
That being said, representation matters. For those of us who fail to feel a connection between ourselves and the group of socially adapted, stunning women on the show, a bag full of first-date vomit is a major step forward.
And now, a toast: to Vanessa and her puke bag.
*scream-barfs violently in salute*
Citations: EXCLUSIVE: Vanessa's First Date With Nick Is Every Girl's Nightmare in New 'Bachelor' Promo: 'Don't Puke' (Entertainment Tonight)