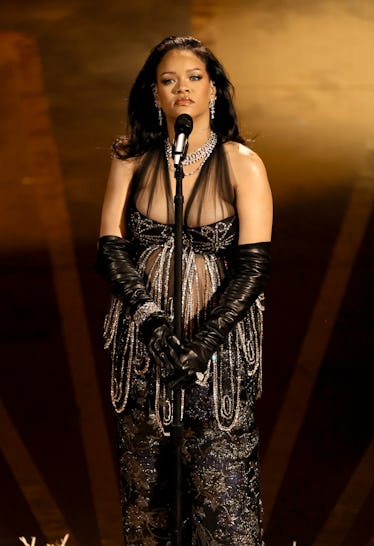 Rihanna & Her Baby Bump Won The 2023 Oscars
That "Lift Me Up" performance is instantly iconic.
Kevin Winter/Getty Images Entertainment/Getty Images
In two months, Rihanna went from reminding the world of her musical prowess at the Super Bowl to slaying at the 2023 Oscars. On Mar. 12, the pop darling appeared at the ceremony and delivered some legendary moments, as she tends to do. Her most stand-out (and sparkliest) moment came during her performance of her single "Lift Me Up," which gave the star her first Oscars nod.
From arriving at the ceremony in a very relatable 'fit to bringing the house down with her show-stopping live performance, here's a rundown of Rihanna's biggest moments at the award show.
Her Arrival Look Screamed Comfy Streetwear Glam
Before RiRi even stepped on the Oscars carpet, she had Twitter talking. Instead of arriving at the ceremony in her actual Alaïa dress, she was seen heading backstage to change into the aforementioned 'fit wearing the comfiest pre-look ever. Yes, even cozier than the cherry-red jumpsuit and sneakers combo she wore during her Super Bowl halftime performance. ICYMI, the singer wore an oversized grey jersey, a bucket hat, and sneakers. Only Rihanna could unintentionally serve two haute maternity looks in one night, and that observation left fans amused.
Her Red Carpet Outfit Was *Chef's Kiss*
OK, a moment of silence for Rihanna's stunning red carpet dress. Shortly after her arrival outfit went viral on Twitter, she showed the world her real glam: an all-black Alaïa dress decorated with sheer and leather trim. This number allowed her baby bump to be the star of the show, and she gave the sweetest poses cradling her bundle of joy. Being that Rihanna is the Queen of internet-breaking, baby-bump-baring maternity 'fits, she absolutely delivered with this number.
Her "Lift Me Up" Performance Was The Moment Of The Night
This was the performance everyone (including activist Malala Yousafzai) was waiting on. A little over two hours into the Oscars, Rihanna delivered a rousing performance of her Black Panther: Wakanda Forever ballad, "Lift Me Up," which was also nominated in the Best Song category. The singer absolutely stunned with this performance, and immediately commanded attention the moment she cooed the opening line.
Clad in a glimmering two-piece set, RiRi sang "Lift Me Up" while being symbolically lifted on a circular platform. The lullaby was written as tribute to Chadwick Boseman, aka King T'Challa, who died in August 2020 after a four-year battle with colon cancer. IYDK, "Lift Me Up" is Rihanna's first single after her nearly six-year absence (!) from the music scene, so to hear her deliver those rousing notes live was incredible.
The stage design — a golden affair filled with feathered cages — was just as ethereal. There was something about the ambience that oozed the world of Wakanda, which made this already tear-jerking performance much more emotive. As Rihanna purred the final line of the track, she was met with a well-deserved standing ovation from the audience, including boyfriend A$AP Rocky.
These moments only served as a reminder that Rihanna's been missed in the pop culture scene.