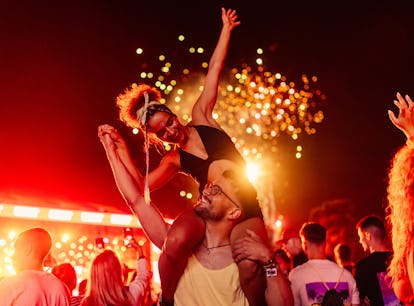 How To Prep For A Music Festival When You Don't Know Every Band Playing
Your ultimate pre-fest guide is right here.
Getty Images
It's happened to so many people — you spend a ton of money on a festival ticket mainly to see a couple of artists you love, only to spend the bulk of your weekend wandering from stage to stage trying to find a band you've semi-heard of. Whether you bought Outside Lands tickets just to see Megan Thee Stallion and The 1975 or Lollapalooza passes to rock out with Billie Eilish and Lana Del Rey, there are probably dozens of other band names on those lineup posters that you aren't familiar with. If you want to really make the most of your experience, your best bet is to prep when you don't know all the bands.
Don't worry, nobody is going to know every performer, especially at the bigger festivals. All you really need to do to set yourself up for a memorable experience is to research who's going on when, make a personalized playlist, and then let the festival vibes take you where you want to go.
If you've got a music festival on the horizon, here are seven simple steps to help elevate the experience.
Step 1: Pick Your Can't-Miss Artists
You probably already studied the lineup before you bought your tickets, but be sure to look closely and identify all the artists you really want to see. This is especially important for festivals that last multiple days — if you want to save money by only buying a single-day pass, make sure it's for a day that has the most bands you're interested in.
And don't just base the decision on the headliners because sometimes the better lineups aren't in the big font. Take this year's Bonnaroo for example. Upon first glance at the poster, you might lean towards going on Friday to see Kendrick Lamar headline. But be sure to read the full schedule for that day, because even if you're not the biggest fan of Saturday's headliner Odesza, it could still be the better pick if you want to see Lil Nas X and Sheryl Crow.
Step 2: Make Your Schedule
Artists will be performing on multiple stages at different times throughout the day, so you need to do a little planning to make sure you see everyone you want to. Before you get to the festival, be sure to check out the schedule on the fest's website, and jot down some times and locations in your group chat to make sure everyone knows the plan.
Let's use this year's Lollapalooza first-night schedule as an example. First, decide when you want to arrive. Maybe none of the earlier acts interest you enough to get there at noon, so you and your crew decide to roll up at around 3 p.m. and hang out before NewJeans goes on at 5 p.m. Then, you have the perfect slot time to catch Rema's show, which will end with just enough time to get to Carly Rae Jepsen's stage before she starts. After that, your crew will have a cool 45 minutes to be sure you get the best spot for Billie Eilish.
Step 3: Choose Some Performers You Don't Know But Are Interested In
You already know the main artists you need to see and when they'll be performing — now it's time to fill in the gaps in your schedule with some bands you may not know so well.
This year's All Things Go lineup is a perfect example. The fest's Sunday lineup is basically your own personal Eras Tour (minus Taylor Swift) with scene-stealing openers Boygenius, Muna, and Beabadoobeee all performing, as well as a Lana Del Rey headliner. But you might not recognize all the performers, even if you've heard some buzz about them. Use this as an opportunity to get more into Ethel Cain, that singer-songwriter your friends have been telling you about, or to finally listen to that pop-punk band you've seen pop up online Meet Me @ The Altar.
This would also be a great time to carve out some nonmusic time in your day. If there are acts that you're just not interested in at all, that can actually be a good thing, because you're going to want some time to just wander around with your friends, grab drinks, and check out some food trucks or activity tents. Don't feel pressured into filling up every second of your day.
Step 4: Listen To The Most Popular Songs From The Artists You Don't Know
Once you have a good idea of the new bands that fit into your schedule that you want to check out, it's time to stream. It can be confusing to know just where to start with a singer you're totally new to, but thankfully, Spotify makes it easy. The app will display an artist's 10 most popular songs on the artist page, and that's really all you need to get a good idea of the vibe before a concert.
And don't just rely on Spotify. TikTok has also become a super valuable resource for learning about a new band. If there are acts on the lineup that pique your interest, check their TikToks for videos of their live shows so you can get a feel for what the experience will be like. You may also get a sense of what to wear and what merch you may want to buy if you wind up becoming a superfan.
Step 5: Add 3 Songs From Each Artist To A Playlist
Here's where you make your most important prep tool. As you check out these new artists on Spotify, pick out the three songs you like best and add them to a new playlist. Feel free to throw in some of your fave bops from the headliners and bigger artists you already know to pump you up as well, but the real purpose of this playlist should be familiarizing yourself with the bands that are new to you.
You can also find festival lineup playlists already on Spotify, but most of them are hundreds of songs long and not personalized to your schedule, so it's much better to curate your own.
Step 6: Listen To Your Playlist On Repeat In The Days Leading Up To The Festival
As your big weekend approaches, make sure that your festival playlist is your go-to listen during your commute to work, laundry day, or whenever else you usually jam out. That way, even if you don't know all of the songs one of the bands you're seeing will perform, there will at least be a few bops at each show that you can turn up to.
Step 7: Let The Festival Vibes Take Care Of The Rest
One of the most important reasons to have a schedule is so you can deviate from it on the day of. Maybe you hear some fun music from a stage that wasn't on your sched, or your friend spots a 'Grammable art installation, or you just want to take a break and get some drinks instead of running to the next show. Don't feel too tied to your plan that you ruin the vibe. You can always get back on track whenever you want, so just relax and enjoy the atmosphere.