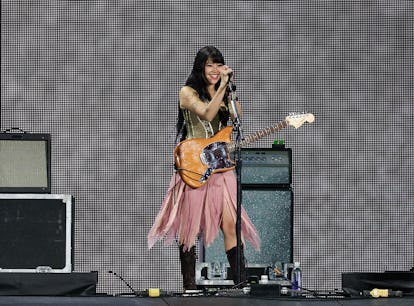 Get To Taylor's Eras Tour Early, Because Beabadoobee's Set List Is Fire
She's such a perfect opening act for the concert.
Ethan Miller/TAS23/Getty Images Entertainment/Getty Images
The Eras Tour doesn't start when Taylor Swift takes to the stage to sing "Miss Americana & the Heartbreak Prince," it actually begins much earlier when the two rotating opening acts get the energy going. Yes, you probably bought your Eras Tour ticket specifically to see Swift belt out 44 songs from throughout her musical career, but you'd be seriously missing out if you didn't show up for the openers — especially if beabadoobee is in the lineup for your city. The singer-songwriter and Swift have been very vocal fans of one another for years, so she's a natural pick for the tour opener, and beabadoobee's Era's Tour set list is the perfect selection of songs to pump up fans for an epic night.
Beabadoobee is one of the nine musical acts opening for Swift on specific dates throughout her Eras Tour. And her placement in the concert was extra special, since she has been part of most of the tour's early legs. She first performed alongside GAYLE at Swift's Las Vegas shows on March 24 and 25, and will continue to open the show alongside Gracie Abrams throughout the April tour dates.
Swift and beabadoobee have already shared some special moments on stage during the tour, including when Swift dedicated her special performance of "Our Song" to beabadoobee after learning that it was her favorite song.
Beabadoobee's set list mostly features her more recent songs, like her recently released single "Glue Song." The furthest it goes back is her 2020 single "Care," and she also performs a fan-fave track "Cologne" during her opening act.
Check out beabadoobee's full Eras Tour set list below:
"10:36"
"Apple Cider"
"Care"
"See You Soon"
"The Perfect Pair"
"Glue Song"
"Talk"
"Cologne"
As Swifties are already well aware, these are all songs that Swift herself can't get enough of. Swift used the song "See You Soon" in her montage celebrating her honorary doctorate from New York University in 2022. And she's previously told beabadoobee that she thinks her entire discography has "no skips."
So be sure to catch beabadoobee's set if you can, because she's your favorite singer's favorite singer.