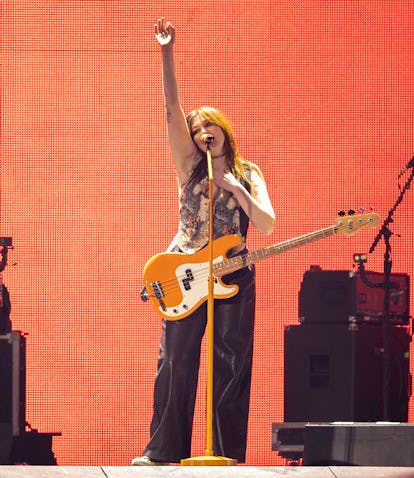 Swifties Are Loving GAYLE's Eras Tour Set List
Christopher Polk/Penske Media/Getty Images
So you're going to Taylor Swift's Eras Tour, and GAYLE is your opener. It's safe to say you've heard her breakout single "abcdefu," but maybe you're not as familiar with the rest of her discography — fear not. GAYLE is an 18-year-old originally from Texas whose story closely resembles Taylor's: She moved to Nashville at a young age to pursue a career as a singer-songwriter and quickly became a Grammy-nominated artist. Taylor even pointed out these similarities during her set when she gave GAYLE a shoutout on opening night in Glendale, Arizona.
Just a few weeks into Eras Tour, which kicked off on March 17, attendees agree: GAYLE's set is a hit. Fans from the Glendale shows say GAYLE "knew what needed to be done" to kick off the tour and called her and Paramore "the perfect opening duo." Others declared themselves "new fans" after watching her perform, praising her live vocals and infectious energy. While her setlist has remained pretty consistent, she is changing the cover she sings in each city. It seems she's leaning more into older tracks, so far performing "You Oughta Know" by Alanis Morissette and "Bennie and the Jets" by Elton John, perhaps breathing new life and bringing a new audience to these classics.
With "abcdefu" being her biggest track — it has nearly 1 billion streams on Spotify — it was unsurprisingly a highlight for the crowd as the set-closer. Other tracks in her 8-song set include her most recent single, "everybody hates me," as well as a sampling from her 2022 multi-part EP, a study of the human experience.
Below is of GAYLE's Eras Tour setlist so far so you can study up before your show.
everybody hates me
sleeping with my friends
ALEX
don't call me pretty
Rotating cover
luv starved
snow angels
abcdefu
It's clear GAYLE, who is a self-proclaimed Swiftie, is grateful for this opportunity. On March 10, he told Apple Music 1, "[Taylor's] done so much for women in pop music for Nashville and for songwriters… It just means the world to me and it just was really validating for me, and especially at a very overwhelming time." Swift knows a thing or two about being thrust into the spotlight at a young age, so there's probably plenty to bond about.
GAYLE will continue to join Swift through shows in Philadelphia, Foxborough, and East Rutherford. Shortly after, she'll open for P!nk's Summer Carnival alongside artists like Gwen Stefani, The Script, and KidCutUp starting on June 7.