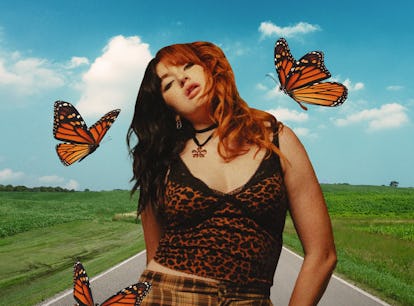 A Day On The Road With GAYLE
Her tour must-haves include a fire playlist and all the caffeinated drinks.
GAYLE
GAYLE's August 2021 single "Abcdefu" exploded like dynamite. By January of 2022, the angsty track about telling an ex to buzz off quite literally became the most popular song in the world, per Billboard, and just six months later has amassed more than 700 million streams on Spotify. Its lyrics are undeniably catchy (take, for example, "F*ck you and your friends that I'll never see again / Everybody but your dog, you can all f*ck off"), a testament to the relatable power of heartbreak anthems. The success of "Abc," as GAYLE affectionately calls it, can be attributed not only to the Texas-born artist's vocal chops and songwriting skills, but also to its virality on TikTok, where more than 2 million clips have been shared using the song as a trendy sound.
When "Abcdefu" topped Spotify's Today's Top Hits playlist in December 2021, GAYLE couldn't believe it. "That was a moment where I was like, 'Wow, this isn't a hypothetical. This isn't a dream. This is reality,'" she tells Elite Daily before chatting about travel, the main subject of today's conversation. Ahead of over 20 tour stops that'll take her from the United States to Europe and back, GAYLE's now reflecting on her "incomprehensible" story. "How do I acknowledge the fact that ['Abcdefu'] broke records without feeling like a prick, honestly? How do I balance feeling confident and happy about the success it's had and really respecting what it's done? This is why I'm going to therapy — I'm still in the process of figuring it out."
Part of that process is giving credit where credit's due. Whereas some artists bemoan TikTok's prevalence in the music industry, GAYLE's here for it. "At the end of the day, TikTok changed my life, and I never want to act like I'm ungrateful for that," she says, acknowledging how the platform has opened windows of opportunity for young female musicians like herself.
As for whether she feels pressured to top her record-setting performance on the app? Nah. "I've never written a song for TikTok. I'm never going to write a song for TikTok — that just doesn't work for me," GAYLE says. "It doesn't work for my brain. It doesn't bring me any personal enjoyment. It doesn't bring anybody else in the room that I'm working with any personal enjoyment to try and write a song for an algorithm. I did not also write 'Abc' for TikTok. TikTok didn't really exist when I wrote 'Abc' with my friends."
At 18, GAYLE has already proven to be more than a one-hit wonder on her debut EP, A Study of the Human Experience, Volume One, an exploration of adolescence that includes daring songs like "Sleeping With My Friends" and "Ur Just Horny." In October, she'll "go deeper into why I am the way I am" on the EP's Volume Two follow-up. Expect lyrics about sex, religion, partying, relationships, and coming of age. For a preview, listen to "Indieedgycool."
Along with the release of Volume Two, GAYLE will be on tour this fall, performing for the masses in cities like Paris, Madrid, and Tel Aviv. "Pre 'Abc,' I had gone nowhere. I hadn't even gone to Idaho," she says, counting Colorado, North Dakota, and Salt Lake City among the places she's recently visited. "I've just now been able to see the world more, and it's literally insane."
The latest stop on GAYLE's globe-trotting adventure was Chicago. Fresh off performing at Lollapalooza and right before packing for her upcoming string of European shows, GAYLE documented her day in the Windy City for Elite Daily.
GAYLE's second EP, a study of the human experience volume two, drops Oct. 7.