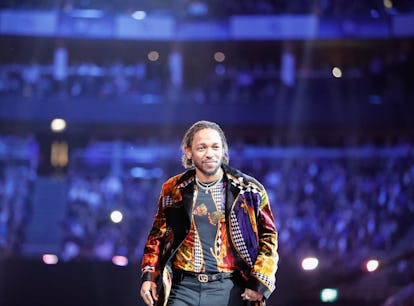 25 Kendrick Lamar Lyrics For Instagram Captions That'll Fit Your Vibe
These are perfect for your humble selfies.
JMEnternational/Hulton Archive/Getty Images
The 2022 Super Bowl halftime show is set to be a star-studded event with performances by Dr. Dre, Snoop Dogg, Eminem, Mary J. Blige, and Kendrick Lamar. As a fan, you definitely have plans to tune into the event live from the SoFi Stadium in Los Angeles on Feb. 13. For the snaps you want to post of your Super Bowl party, it only makes sense to have some Kendrick Lamar lyrics for Instagram captions on hand to make posting super easy.
These Kendrick Lamar lyrics aren't just useful for Super Bowl party pics, but also for any snaps that you deem are Insta-worthy. In fact, you'll definitely want to use a line from Lamar's Grammy-winning song "HUMBLE." for your most stylish OOTD or a selfie where you're feeling yourself. On the flip side, you can use a sweet Kendrick Lamar lyric for couple pics with your SO, or something fierce for a group shot of you and your besties on a fun adventure together.
Even the Kendrick Lamar lyrics on his collabs with artists like Beyoncé, Rihanna, and Taylor Swift make perfect Instagram captions for a variety of occasions. All you need to do is browse this list of 25 Kendrick Lamar lyrics to pick an Instagram caption for the snap you want to post from the best Kendrick Lamar quotes.
"Tell me what you gon' do to me. Confrontation ain't nothin' new to me." — Kendrick Lamar and SZA, "All The Stars"
"B*tch, be humble. Sit down." — Kendrick Lamar, "HUMBLE."
"Y'all know, what happens on Earth stays on Earth." — Kendrick Lamar, "ELEMENT."
"Seven misleadin' statements 'bout my persona." — Beyoncé featuring Kendrick Lamar, "Freedom"
"I can't take it back, look where I'm at." — Taylor Swift featuring Kendrick Lamar, "Bad Blood"
"I'm always on your mind. I put my lyric and my lifeline on the line." — Kendrick Lamar featuring Rihanna, "LOYALTY."
"I wanna be with you." — Kendrick Lamar featuring Zacari, "LOVE."
"Look inside of my soul, and you can find gold and maybe get rich." — Kendrick Lamar, "B*tch, Don't Kill My Vibe"
"B*tch, don't kill my vibe." — Kendrick Lamar, "B*tch, Don't Kill My Vibe"
"Brace yourself, I'll take you on a trip down memory lane." — Kendrick Lamar, "m.A.A.d City"
"I got loyalty, got royalty inside my DNA." — Kendrick Lamar, "DNA."
"I think that I'm feelin' the vibe, I see the love in her eyes." — Kendrick Lamar, "Swimming Pools (Drank)"
"It go Halle Berry or hallelujah." — Kendrick Lamar featuring Jay Rock, "Money Trees"
"Money trees is the perfect place for shade, and that's just how I feel." — Kendrick Lamar featuring Jay Rock, "Money Trees"
"If I told you that a flower bloomed in a dark room, would you trust it?" — Kendrick Lamar featuring Drake, "Poetic Justice"
"B*tch, where you when I was walkin'? Now I run the game, got the whole world talkin'" — Kendrick Lamar, "King Kunta"
"Give me a run for my money. There is nobody, no one to outrun me." — Kendrick Lamar featuring Zacari, "LOVE."
"All my life I want money and power." — Kendrick Lamar, "Backseat Freestyle"
"Lovin' me is complicated." — Kendrick Lamar, "Alright"
"Promise that you will sing about me." — Kendrick Lamar, "Sing About Me, I'm Dying of Thirst"
"I'm hopin' that I can borrow a peace of mind, I'm behind on what's really important." — Kendrick Lamar, "Sing About Me, I'm Dying of Thirst"
"You know careers take off, just gotta be patient." — Kendrick Lamar, "ELEMENT."
"I love myself." — Kendrick Lamar, "i"
"The sky could fall down, the wind could cry now, the strong in me, I still smile." — Kendrick Lamar, "i"
"I'm fortunate you believe in a dream." — Kendrick Lamar, "Sing About Me, I'm Dying of Thirst"