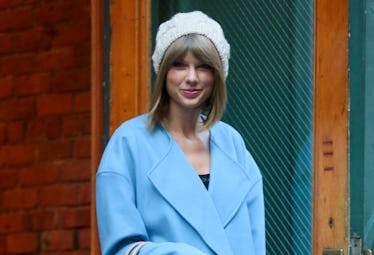 38 Taylor Swift Lyrics For *Forever Winter* Captions, When Everything Is Icy And Blue
'Tis the damn season, after all.
Nobody paints a picture quite like Taylor Swift. If you close your eyes while listening to Red (Taylor's Version), you can practically see "the colors in autumn, so bright," which is why she's often regarded as the queen of fall. But did you know that there are far more words that paint a wintry, snow-filled scene in the singer's songs? We combed through every single T-Swift track, and confirmed that there's a minimum of 38 Taylor Swift lyrics perfect for winter captions on Instagram or TikTok.
Separate from all of Taylor Swift's lyrics that explicitly mention holidays (i.e. "We could leave the Christmas lights up 'til January," "I'll be cleaning up bottles with you on New Year's Day," etc.), the December-born star can take you on a journey through a "snow-covered little town" in one song, to the "floors of a cabin" creaking under your steps in another, once again, illustrating a nearly tangible picture of a season. Her newly announced re-recording of "Christmas Tree Farm (Old Timey Version)" is yet another reminder of that, with lyrics such as:
Sweet dreams of holly and ribbon / Mistakes are forgiven / And everything is icy and blue / And you would be there too
If you're ever in need of a winter-themed caption, this list of Taylor Swift lyrics should be the first thing you look at. 'Tis the damn season, after all.
You can stream Taylor Swift's "Christmas Tree Farm (Old Timey Version)" exclusively on Amazon Music.