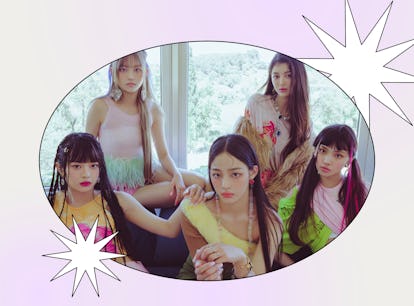 K-Pop Fans Love NewJeans Because Of This 1 Special Skill
They're quickly blowing up.
Photo courtesy of ADOR
HYBE is the company behind mega K-pop groups like BTS, TXT, and ENHYPEN. Now, they've added another need-to-know artist to their eclectic roster: NewJeans. The girl group, signed to HYBE's independent label ADOR, made their debut in July 2022 with their flirty single "Attention," which appears on their self-titled EP. NewJeans' rollout has been a thrilling sight to see, as the group knows how to create nostalgic, genre-fusing bops without sounding too dated.
The members of NewJeans (Minji, Hanni, Danielle, Haerin, and Hyein) are teenagers, and that youthfulness can be heard in their lyrics fawning over first crushes and friendships. Take their soft launch, "Attention," a minimalist R&B hit about craving attention from your crush. Though the lyrics are directed towards a mystery boy, the track's production definitely caters to listeners. This release is intentionally catchy with those buttery, uptempo drums that steadily build around the group's distinct vocals.
In some parts, the group's flow sounds like a scaled-back version of Justin Timberlake's "Señorita," especially in that rhythmic pre-chorus. A bop influencing another bop? That's gold.
NewJeans upped the ante with their self-titled EP, which includes cuts like "Hype Boy," "Cookie," and "Hurt." Steadily building on their catchy flare, the entire project flows like an R&B-meets-modern-chill-pop dream, and sees songwriting credits from several of the members.
According to Danielle in a January 2023 interview with Nylon, their team encourages them to write their own lyrics. "Through these [lyric-writing opportunities], I feel we all have grown an interest towards it, and each member really has their own unique story to tell and interpretation for each song," she said.
Her words echo that of Haerin, who told NME in January how incredible it's been to write their feelings into a tune and have fans resonate with them. "I've been practicing songwriting ever since our debut, so I want to continue to try and build experience in that," she said. "I think it is very meaningful, the fact that our message could inspire people and evoke emotions."
That's not to say their songwriting journey hasn't been without its struggles. For the youngest member, Hyein, she's still learning how to translate her emotions on paper. "It's really much harder than I thought, to express my emotions and incorporate those emotions into the music," she said.
The group's debut is just one of many ways NewJeans is unique. Unlike other groups that often tease their launch for weeks by dropping various photos and videos, NewJeans kept details about their identities secret until the release of "Attention." With this in mind, you might be wondering who exactly NewJeans is and how they ace their lush sound. Check out everything there is to know about the group below.
Who are the members of NewJeans?
NewJeans has a total of five members: Minji, Hanni, Danielle, Haerin, and Hyein.
MINJI
DANIELLE & HAERIN
HYEIN
HANNI
How old are the members of NewJeans?
According to Nylon, the oldest members of NewJeans are MINJI and HANNI. They're both 18 years old. DANIELLE is 17 years old, while HAERIN is 16. Finally, HYEIN is 14, making her the youngest member of the group.
What is the meaning behind NewJeans' name?
NewJeans's name has a significant meaning, according to ADOR's CEO and head producer Min Hee-Jin. "Pop music is a culture that is very close to our daily life, so it is like the clothes we wear every day," Min said in a press release. "Just as jeans have withstood the test of time and found popularity among many regardless of their age and gender, NewJeans aspires to become an icon of generations—one you never grow tiresome of putting on."
Does NewJeans have a signature sound?
There's a reason why NewJeans are quickly becoming K-pop's newest darlings— and it's in their lush sound. Their tunes are such a vibe, brimmed with honeyed melodies, sick synths, and lighthearted youthfulness. That flare rings with such vigor on their newer songs, "Ditto" and "OMG," which teases their other upcoming releases.
"Ditto" is a dizzying track influenced by Baltimore Club music. Produced by Korean DJ 250, all five members softly croon about confessing their love to a crush over looped staccato drums and lo-fi synths. Still tinged with nostalgia, this hazy gem is a daring move compared to their other releases. As Vice reports, Baltimore Club sounds typically use "hard-and-heavy bass drum patterns" that pairs well with brisk, hyped singing. However, on "Ditto," the members stick to their soft vocals and occasionally slip in breathy harmonies to bridge verses together.
Meanwhile, "OMG" is their second successful dive into minimalist R&B. The arrangement — which is more upbeat than "Ditto" — starts with a soft melody before mixing trap rhythms. This awing detour works well for NewJeans, as they adopt a more winking, rap-singing cadence on this track.
Where can I follow NewJeans on social media?
Fans can follow NewJeans on Twitter, Instagram, and YouTube.
Something tells me, much like a good pair of denim trousers, NewJeans may be sticking around for some time.
This article was originally published on