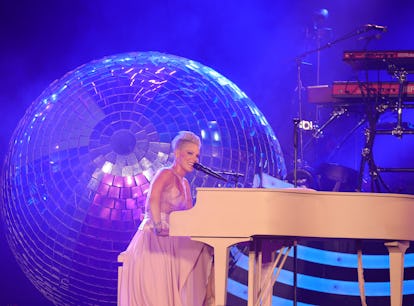 Pink Changed Her Infamous Britney Spears Lyric To Show Her Support
This performance is so touching.
Kevin Mazur/Getty Images Entertainment/Getty Images
Pink may have been Missundaztood back in the day, but she's making her feelings perfectly clear now. The day that Britney Spears' divorce was first reported, Pink took a moment during her concert to include a very sweet shoutout to her fellow pop star. She actually changed the famous lyric about Spears in her 2001 single "Don't Let Me Get Me" to emphasize just how much her feelings about the singer have changed in the past two decades.
Just hours before Pink took to the stage for her Aug. 16 show in Detroit as part of her Summer Carnival Tour, news broke that Spears and her husband of one year, Sam Asghari, were reportedly filing for divorce. Spears and Asghari later confirmed the reports. As a sign of her support for Spears, Pink altered the lyrics to her early hit song "Don't Let Me Get Me." The original lyrics mention Spears as an idealized pop star who frustrates Pink due to her unattainable image:
Tired of being compared / to damn Britney Spears / She's so pretty / That just ain't me
However, Pink switched up how she described Spears at her Detroit concert while performing an acoustic version of the song. The singer referred to her as "sweet Britney Spears" instead of "damn Britney Spears":
Tired of being compared / to sweet Britney Spears / She's so pretty / That just ain't me
The lyric change, which you can watch below, elicited a loud emotional response from concertgoers.
Earlier in 2023, Pink spoke about how she felt that specific lyric got misconstrued at the time, stating that it was never meant to ridicule Spears. "People think I was picking on Britney on 'Don't Let Me Get Me,' but I've always felt like a big sister to her," Pink said in a Feb. 22 People interview. "I'm very protective of her, and she's the sweetest person in the world. I wish her well. I cover her in light all day long."
Spears' divorce comes two years after the end of her highly publicized conservatorship, which had placed her involuntarily under her father's legal control for 13 years. A few months after the conservatorship was terminated, Spears married her longtime boyfriend Asghari in the summer of 2022. The details of their separation have not yet been officially revealed.