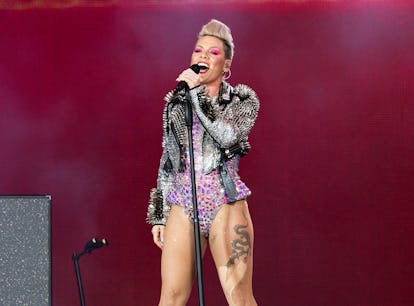 Uh, A Fan Threw Their Mom's Ashes Onstage At A Pink Concert
Burak Cingi/Redferns/Getty Images
Concert etiquette has left the chat. It's not a new phenomenon for fans to throw harmless gifts onstage for an artist to see. But these days, concert-goers have a hit a new unhinged low in trying to get attention from their favorite singers. This latest example happened at Pink show, where someone tossed a bag of their late mom's ashes onstage as she performed. Yes, cremated remains.
On June 25, Pink (who's currently on her Summer Carnival tour with Gayle) performed as a headliner at London's BST Hyde Park festival. In a fan captured video on Twitter, the singer can be seen crouching down to inspect a plastic bag that had been thrown onstage. While singing her hit "Just Like A Pill," she stood up with the bag of ashes and looked at the audience. Someone off camera caught her attention, and she lifted the clear sack to confirm if it was them who hurled it towards her.
"Is this your mom? I don't know how I feel about this," Pink said mid-song, seemingly stunned. She then moved the ash-filled bag to the edge of the stage and continued her performance. Even in her attempt to move forward, it appeared she was still trying to process what had happened. The singer's expression is quite understandable, as the fan didn't give any instructions on what to do with the remains.
That's not the only wild-card moment from Pink's show. In another fan captured video, an audience member gifted the singer a wheel of cheese— Brie, to be exact. While that's an oddball present, this interaction felt more lighthearted, though it ponders the question of how long this fan had been toting around packaged cheese at a hot outdoors festival.
These interactions follow a string of other scenarios where fans hurled odd objects at a singer. Earlier this month, a fan threw a phone at Bebe Rexha during her concert in New York. The object struck her in the head, and she later received stitches from the injury. About a week later, singer Ava Max was slapped by a fan who rushed the stage at her show in Los Angeles. Then, last year, fans threw chicken nuggets and skittles at Harry Styles (yes, on two separate occasions) during his Love On Tour shows.
Though Pink wasn't directly struck with the plastic bag or cheese, it's safe to assume that a headlining festival show isn't the ideal resting place for one's remains.