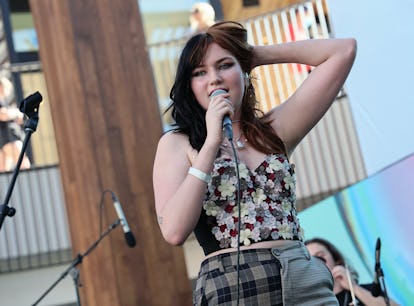 GAYLE Is Staying Booked & Busy With Her New Scared But Trying Tour
After opening for Taylor Swift and P!nk, she's now dedicating the stage to herself.
David Livingston/Getty Images Entertainment/Getty Images
There's been plenty of couples that have dominated this year. However, none can top the sonic chemistry between GAYLE and tour life. Ever since March, the singer has been on the road in support of Taylor Swift's Eras Tour and has squeezed in a few festival shows. Now, she's currently the opener on P!nk's Summer Carnival tour. Talk about a relationship that's on a consistent run. Now, it seems GAYLE's adoration for live performances has hit a new peak: She's headlining her own solo tour this fall.
On June 12, GAYLE announced the news of her tour on Instagram. Titled Scared but Trying, this forthcoming excursion sees the singer performing at smaller-scale venues in the United States and Canada. In the post, she bared her emotions on opening with Swift and P!nk, calling these opportunities "the most exciting and terrifying moments of my life."
"Before walking on stage, I would get nauseas and it would be hard for me to control my breathing but no matter how I felt, I would try and do it anyways," she wrote, her revelation adding a personal meaning to the name of her headlining tour. "The thought of going on my own tour is very intimidating to me but I've been scared for the past two years and over time I've learned I can do things even though I'm afraid. With this tour, I am scared, but I'm ready to try."
Her emotive words seem to nod at her 2022 Avoiding College tour, which she cancelled due to "learning how to be an adult and how best to do this new life." As for her Scared but Trying tour, ticket sales have already started. On June 13, an Artist Presale began at 10 a.m. local time. However, for those that didn't score a presale code for that sale, there's still two more chances to snag tickets. According to a press release, a Spotify and local presale will happen on June 14 at 10 a.m. local time. Then, on June 16, a general sale will begin at the same time.
GAYLE might be hesitant to headline her own tour; however, that wavering skepticism can't be seen in her recent performances. The singer has a knack for commanding even the smallest stages with her fiery vocals and vulnerable expressions, so seeing her in a solo atmosphere might be the move this year.
Here are all the important things to know about GAYLE's Scared but Trying tour.
When does GAYLE's Scared but Trying tour begin?
Gayle's solo effort will kick off at Crowbar in Florida on Oct. 17. It'll continue throughout the fall, ending just shy of a month on Nov. 11 in Tennessee.
What cities will GAYLE visit on her Scared but Trying tour?
GAYLE will trek through 14 cities across the United States, hitting spots such as Houston, Los Angeles, Chicago, and Atlanta to name a few. She'll also do a brief stint in Canada around the midway of her tour, too.
Check out all the tour dates below:
Oct. 17 in Tampa, FL at Crowbar
Oct. 19 in Houston, TX at The Studio at Warehouse Live
Oct. 20 in Dallas, TX at The Studio at The Factory
Oct. 22 in Denver, CO at Bluebird Theater
Oct. 24 in Phoenix, AZ at Valley Bar
Oct. 25 in Los Angeles, CA at El Rey Theatre
Nov. 1 in Minneapolis, MN at Amsterdam Bar & Hall
Nov. 2 in Chicago, IL at Lincoln Hall
Nov. 4 in Toronto, ON at Velvet Underground
Nov. 5 in Montreal, QC at Bar Le Ritz PDB
Nov. 7 in Boston, MA at Brighton Music Hall
Nov. 8 in Philadelphia, PA at The Foundry
Nov. 10 in New York, NY at Racket
Nov. 14 in Atlanta, GA at The Loft
Nov. 15 in Nashville, TN at Basement East
Who are the openers for the Scared but Trying tour?
So far, GAYLE hasn't announced any openers for the tour.
What will GAYLE's Scared but Trying tour setlist look like?
GAYLE hasn't teased what the upcoming tour's setlist will be. However, it wouldn't be too far-fetched if she did, considering she released her opening setlist for Swift's Eras Tour on Apple Music. Now, with this being her own tour, it's safe to assume the singer will perform tracks from both versions of her 2022 A Study of the Human Experience EP.
GAYLE might also show her recent singles "Everybody Hates Me" and "Don't Call Me Pretty" some love, too. These tracks exude an unabashed grunginess GAYLE's grown quite comfortable adopting into her live performances, so these would be perfect contenders.
When do tickets for GAYLE's Scared but Trying tour go on sale?
On June 14, a Spotify presale will occur at 10 a.m. local time. Then, a general public sale will commence on June 15 at the same time.