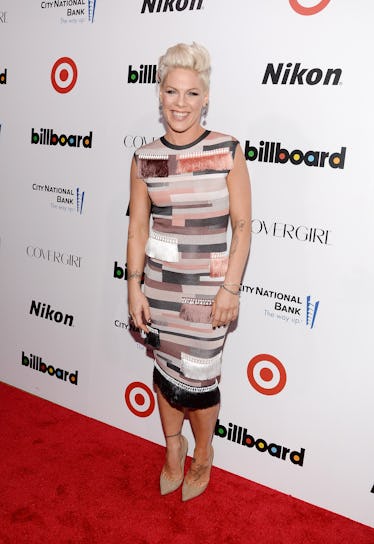 Here's What Pink's Real Name Is, If You Were Wondering
Larry Busacca/Getty Images Entertainment/Getty Images
Pink has been gracing the world stage with her beauty and talent for nearly 20 years. And yet there's still so much audiences don't know about her. Like how she manages to do those acrobatics while performing (seriously, her skill is admirable). Perhaps the most nagging question on people's minds, though, has to do with her name. So, what is Pink's real name, anyway?
The answer? Alecia Beth Moore, which actually has a really nice ring to it. Pink adopted her stage name when she was around 14 years old, but the moniker had already followed her for some time. Back in 2010, the singer said that the name "came from a lot of different places."
The first time she was ever called Pink was by a boy she had a crush on:
The first time was actually not very nice. This kid I had a crush on, Devin — I went to the YMCA as a summer camp because it was the cheapest one and this kid pulled my pants down in front of everybody at this auditorium because we had gone swimming. I swam in my underwear because I didn't have a bathing suit and then I was just like, 'Oh there's only one thing left in the day; I just won't put my underwear back on.' And then he pulled my pants down in front of everybody and I totally blushed and my butt cheeks were pink. He was like, 'Yeah, pink!' and everyone made fun of me. I ran home crying and I lived it down. That was like, when I was eight.
But it was Quentin Tarantino's Reservoir Dogs that solidified the name for her:
When the Reservoir Dogs movie came out — the Quentin Tarantino — Mr. Pink is like, the smart, sassy, smart ass kind of guy with the attitude. And me and all my friends were sitting around and we all kind of just dubbed each other. And they picked me for Mr. Pink.
Who knew that a bullying incident would be kind of a precursor to stardom? And now she's joined the ranks of some of the most famous one-namers in the business. Think Cher, Madonna, Beyoncé. It was meant to be, I guess, because she's definitely in great company!
Stage name aside, Pink is so much more than a singer. Over the years, she's proved herself a very talented artist and a true champion of women.
Pink, who is married to motocross racer Carey Hart, recently landed the cover of People's 2018 "The Beautiful Issue," which is a rebranding of the magazine's "Most Beautiful" issue. The new iteration hits newsstands on Friday, April 20.
The People cover features Pink and her two children Willow Sage, 6, and Jameson Moon, 1. Given Pink's recent outspokenness about beauty and self-acceptance, landing this cover seems rather fitting.
In 2017, Pink received MTV's Michael Jackson Video Vanguard Award for her amazing work and, during her acceptance speech, she told a poignant story about how she taught her daughter to be comfortable in her own skin:
They say that I look like a boy or I am too masculine, too many opinions, my body is too strong ... do you see me changing the way I present myself to the world? 'No, mama.' Do you see me selling out arenas around the world? 'Yes, mama.' ... So baby girl, we don't change.
Here's a video of that moment, so you can bask in all of that awesomeness for yourself:
Now, that is some incredible parenting!
All told, it's super exciting to see Pink getting her due and being featured on the cover of People. No doubt she deserves it!