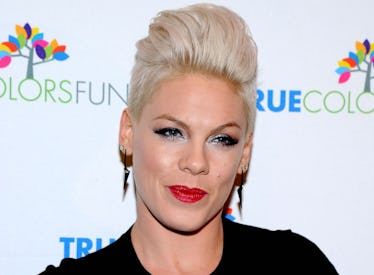 Pink Is The Star Of The 2018 "Beautiful Issue" & She Looks Absolutely Stunning
When Pink found out she was selected to be People's "Beautiful Issue" 2018 cover star, she "laughed out loud" and said, "Did you ever think this was as good as it gets?" People revealed on Wednesday, April 18, the reason behind the selection while announcing it's dropping the previous "Most Beautiful" title. The move, the outlet said, is to make it clear that the yearly issue is not a beauty contest. To commemorate the occasion, Pink covers "The Beautiful Issue" with her two children, Willow and Jameson, and it's so precious.
Jess Cagle, Editor-in-Chief of People, said in a statement about Pink's cover issue,
Over the years, the name of the issue has evolved ('50 Most Beautiful,' 'Most Beautiful Woman,' etc.), but the words 'Most Beautiful' have always been part of the title. This year we're renaming it 'The Beautiful Issue' — to make clear that the issue is not a beauty contest. Nothing else has changed.
Cagle added, "As always it will feature beautiful women (and a few men) of all shapes, sizes and colors, and it will celebrate the most beautiful qualities of all: strength, humanity and artistry," describing Pink as "a woman who checks all those boxes. She's a performer, mother and role model whose honesty, humor, confidence and sheer star power make her one of the most beloved and fascinating entertainers on the planet." Girl, yes.
Pink's kids, Willow and Jameson, grace People's "Beautiful Issue" with her. Just look at those beaming faces!
She told to the outlet about her methods to raising her and husband Carey Hart's kids into strong adults. "The thing about parenting is you never know if anything you're doing is working," she said. "That's been the most humbling thing for me. In my head, I sound amazing and then I turn around and her eyes are completely glazed over. I have no idea. We'll see." She also said her and Hart's house is a gender-neutral space, but she's not quick to use the label "gender-neutral."
She said,
I feel like gender-neutral is in itself a label and I'm label-less. I don't like labels at all so I believe that a woman and a girl can do anything. I believe that a boy can do anything. So I have boys that flip dirt bags and I have boy friends that wear dresses. It's all OK to me. It's whatever floats your boat. So that's the kind of house that we live in.
At the beginning of the interview, DeGeneres said to the singer, "You're more beautiful than you've ever been before. I don't know what happened, but you're even more beautiful today, Pink," to which she joked back, "I feel more beautiful, and I've decided that for the whole week that the magazine is out no one is allowed to look me directly in my eyes." Noted.
She told DeGeneres that she "laughed out loud" when she got the call about the "Most Beautiful" title. "I laughed out loud," she said, adding, "I immediately turned to whoever was in the room and said, 'Did you ever think this was as good as it gets?'" Pink couldn't stop joking about the whole thing, saying she thinks it was her adorable kiddos that snagged her the title. "I think, honestly, it was Jameson and Willow that secured that deal for me," she said. "I'm wondering if in 20 years if Jameson's gonna be upset about his first cover. I mean, it's pretty good." Listen, if Jameson isn't cool with this magazine cover 20 years from now, buddy will just have to deal because it's literally the cutest picture ever.
Pink also revealed to DeGeneres that the VMAs speech she dedicated to her daughter apparently didn't do anything. (Don't worry, Pink laughed this off too.)
In the speech she gave while accepting the 2017 Video Vanguard Award, she said, "Recently, I was driving my daughter to school, and she said to me, out of the blue, 'I'm the ugliest girl I know ... Yeah, I look like a boy with long hair.'"
She continued,
My brain went, 'Oh my god, you're six, why ... where is this coming from? Who said this? Can I kick a six year old's ass, like, what?' But I didn't say anything, and instead I went home and I made a Powerpoint presentation for her. In that presentation were androgynous rock stars and artists that live their truth. [These artists] are probably made fun of everyday of their life, and carry on, and wave their flag, and inspire the rest of us — and these are artists like Michael Jackson, and David Bowie, and Freddie Mercury, and Annie Lennox, and Prince, and Janis Joplin, and George Michael, and Elton John, and so many artists, her eyes glazed over.
She said that she told her daughter, "We don't change. We take the gravel and the shell and we make a pearl. We help other people to change so that they can see more kinds of beauty." But Willow, according to Pink, took the time to let her mom know that all of that effort she made didn't change how she felt.
She said while laughing to DeGeneres,
She actually just said to me, 'You know that part on your show where you talk about that time you talked about me?' She's talking about the MTV speech. She goes, 'Yeah well I still feel that way.' I was like, 'For what? That you're ugly?' She's like, 'Yup, I just want you to know I still feel that way. Nothing you did helped.' I was like, 'Thanks, babe. Well you know we all feel that way sometimes.' She's like, 'We do?' I'm like, 'We're not doing this again. I have to go.'
I guess she really meant it when she said that as parents, you really have no clue if what you're trying to teach your kids is going to stick. Keep doing you, you beautiful mama.