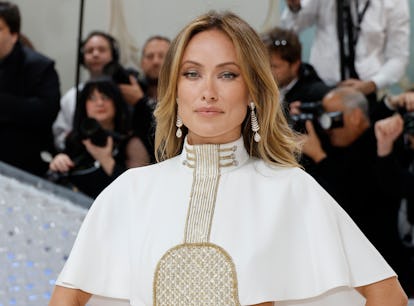 Olivia Wilde Addressed Criticism Around Her Recent Taylor Swift Joke
Olivia Wilde has entered the Traylorverse. All eyes have been on Travis Kelce and Taylor Swift, who've been teasing their relationship like the plot of a sports romance novel since September. Yes, even BookTok would fawn over their chemistry. Wilde recently weighed in on Swift and Kelce's romance; however, her take invited more backlash than praise. Now, after weeks of criticism, the actor is clarifying her comment.
Here's a quick refresher on the drama. On Oct. 6, Wilde reposted a tweet from Westworld actor Katja Herbers that read, "I wish Taylor Swift was in love with a climate scientist," on her Instagram Stories. The joke seemed to imply that more people would be interested in climate change, as Swift's current relationship with Kelce — who's a tight end player for the Kansas City Chiefs — has clearly increased fans' attention to football.
That wasn't the only tweet Herbers, who's also a climate activist, made about Swift. On X (formerly known as Twitter), she imagined the singer would "join her scientist at an end fossil fuels rally" and that Swifties raised awareness about the world's "climate emergency" could potentially limit the damage. Wilde notably didn't share these follow-up tweets to her Stories.
Many fans took Wilde's post as a sudden dig at Swift's relationship. Some thought it was odd, considering they both have a past connection to Harry Styles — Swift and the "Cinema" singer dated from 2012 to 2013, while Wilde and Styles reportedly ended their two-year relationship in November 2022. Meanwhile, other users argued Wilde's comment was "hypocritical," considering she's rarely used her own platform (or the unhinged buzz from her 2022 film, Don't Worry Darling) to speak on climate change.
After a few weeks of silence, Wilde recently addressed the backlash on Oct. 15. "I meant no harm," Wilde told paparazzi while out in California, per the Daily Mail. "It's obviously a comment on how much attention gets paid to stupid things."
Besides Herbers' tweets, the topic of climate change is particularly relevant to Swift. Last summer, the 1989 singer was named one of the "Celebs with the Worst Private Jet Co2 Emissions," in a report from the marketing agency Yard. This ranking sparked backlash on social media, leading a spokesperson for the singer to defend the numbers to Rolling Stone shortly after.
"Taylor's jet is loaned out regularly to other individuals. To attribute most or all of these trips to her is blatantly incorrect," they said in August.
Swift has not publicly responded to Wilde's joke.