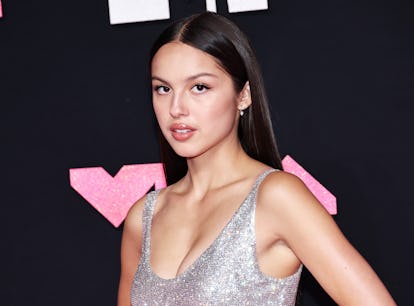 Wait, Did Olivia Rodrigo Drop A Clue About Her Rumored BF Months Ago?
Fans are connecting the dots...
Jamie McCarthy/WireImage/Getty Images
Olivia Rodrigo has been spilling her Guts lately. On the angsty album, the singer used her witty, spicy Pisces persona to confront the ugliest part of romance: heartbreak. With that honesty came a lot of unfiltered moments, including a few explicit lyrics that didn't make the final cut of the album — ugh, whatever happened to fun? Now, it seems Rodrigo has been subtly dropping hints about her current relationship status. Fans believe the singer has been low-key dating actor Louis Partridge, and this new evidence feels promising.
At the end of October, photos of Rodrigo and Partridge hanging out together in London went viral on Twitter. In the photos, the two appeared to be attending a Halloween party — the singer was wearing a pair of black cat ears — and shared a quick hug.
Since Partridge's back was turned to the camera, some users were unsure if the guy in question was him. However, a fan confirmed it was the Enola Holmes actor by posting a photo of the duo inside the party on Twitter. In the cropped shot, Rodrigo can be seen in her all-black costume while Partridge, who's sporting the same yellow jacket, is in the background.
Also, on Oct. 31, Heartstopper actor Bradley Riches shared photos of himself attending the Halloween event on Instagram. In the photo carousel, both Rodrigo and Partridge can be seen wearing the same outfits. This isn't the first time the alleged couple have been spotted together. On Oct. 26, four days before the Halloween party, a Twitter account posted a photo of Rodrigo and Partridge hanging out with a fan.
These new sightings are surprising, as Rodrigo's been tight-lipped about her relationship status since the beginning of this new era. In her August 2023 Vogue cover story, the "Bad Idea, Right?" crooner revealed she understood why fans were so intrigued by her dating life. Then, when asked if she was single, she coyly responded: "I don't know! I don't kiss and tell."
Partridge has taken the same route in his own rumored romances. In September 2022, he was reportedly linked to Don't Worry Darling star Sydney Chandler. The Daily Mail reported the two actors met while on the set of Pistol, an FX mini series that starred Partridge as the late Sid Vicious. Neither star confirmed or denied the relationship speculation, so there's a chance he might follow that same approach with Rodrigo.
While Rodrigo and Partridge haven't addressed the buzzy romance rumors, fans believe she's been dropping breadcrumbs about the relationship for a while. After the Halloween photos went viral, one Twitter user revisited a clip of Rodrigo's August interview with Hits Radio. There, she revealed she's been learning to use WhatsApp, as she recently created a channel on the platform to connect with her global fans.
"WhatsApp is a very British thing. I'm learning [that] to talk to British people, I have to have WhatsApp," she said in the interview.
This nod is quite interesting, as Partridge is British. Could this interview have happened around the time Rodrigo and Partridge were starting to get to know one another? Oh, I'm invested.