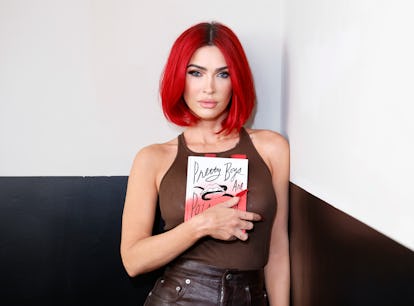 3 Heartbreaking Details From Megan Fox's Pretty Boys Are Poisonous
Toxic relationships will never thrive in these pages.
Getty Images
There's a new poet in town. On Nov. 7, Megan Fox released her debut poetry novel Pretty Boys Are Poisonous. The actor's induction into the celebrity book club came at a buzzy time, as many stars have released memoirs and juicy short stories about their past relationships this year. Similar to some of those works, Fox left her heart and unbridled thoughts on the page.
Fox first announced her collection of poetry in August. "These poems were written in an attempt to excise the illness that had taken root in me because of my silence," she wrote on Instagram at the time, sharing the snake-pierced cover of the book. "I've spent my entire life keeping the secrets of men, my body aches from carrying the weight of their sins."
That yearning for release can be seen in the 176-page book, where she details her own experience with toxic relationships and having her first miscarriage. In a Nov. 6 interview with People, Fox revealed that while some of these poems come from "lived experiences," others stem from her "Grimm's-fairy-tale" type of imagination.
Fox doesn't identify or name drop anyone in the book; however, she recently confirmed her relationship with now-fiancé, Machine Gun Kelly, influenced at least one of her entries. The same day Pretty Boys Are Poisonous released, Fox told Good Morning America that she experienced the aforementioned miscarriage while engaged to the rapper.
"I've never been through anything like that in my life," Fox said. "I have three kids, so it was very difficult for both of us, and it sent us on a very wild journey together and separately…trying to navigate, 'What does this mean?' and 'Why did this happen?'"
Here are three heartbreaking poems from Pretty Boys Are Poisonous.
Pretty Boys Are Poisonous is out now.