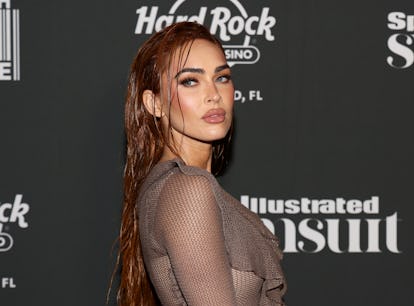 Megan Fox Wrote A Book About "Carrying The Weight" Of Men's "Sins"
Alberto Tamargo/Getty Images Entertainment/Getty Images
You can add poet to Megan Fox's resume. On Aug. 8, the Jennifer's Body actor announced she's publishing a book of poetry, titled Pretty Boys Are Poisonous. The book, which will be released on Nov. 7, promises to be a deep look at Fox's personal life, specifically how she's been impacted by "carrying the weight of [men's] sins."
In her IG post, Fox wrote, "These poems were written in an attempt to excise the illness that had taken root in me because of my silence. I've spent my entire life keeping the secrets of men, my body aches from carrying the weight of their sins."
Though she didn't get too detailed about what exactly that excision will entail, Fox clarified that this project was about finding her own sense of "freedom." She explained, "My freedom lives in these pages and I hope that my words can inspire others to take back their happiness and their identity by using their voice to illuminate what's been buried, but not forgotten, in the darkness."
On her publisher Simon & Schuster's website, the book (which is available for pre-order) is described as "a heartbreaking and dark collection of poetry. Over the course of more than seventy poems Fox chronicles all the ways in which we fit ourselves into the shape of the ones we love, even if it means losing ourselves in the process."
Fox has openly talked about her experiences being sexualized at a young age. In 2022, Fox told Glamour UK, "I think that I was ahead of the #MeToo movement by almost a decade. I was always speaking out against some of the abusive, misogynistic, patriarchal things that were going on in Hollywood back in 2008 and 2009, way before people were ready to embrace that or tolerate it. And I actually got ridiculed for doing it. I think people just have had time to review that, in retrospect."
In 2020, a video of Fox being interviewed by Jimmy Kimmel went viral. In it, she recounted how when she was 15, director Michael Bay filmed her dancing under a waterfall in a bikini, cowboy hat, and high heels for her role in Bad Boys II. "That's a sort of a microcosm of how Bay's mind works," she recalled to Kimmel. He replied, "Yeah, well, that's really a microcosm of how all our minds work, but some of us have the decency to repress those thoughts and pretend that they don't exist." His comment was met with laughter.
Fox discussed the viral moment with the Washington Post in a July 2021 interview. "That was a microcosm of my whole life and whole interaction with Hollywood. It was just very dark," she told the outlet. "I was so lost and trying to understand, like, how am I supposed to feel value or find purpose in this horrendous, patriarchal, misogynistic hell that was Hollywood at the time? Because I had already been speaking out against it and everyone, including other women, received me in a very negative way for doing it."
It sounds like Fox's poetry book will give a more in-depth look at her perspective — and she clearly has a lot of material to discuss in her own words.