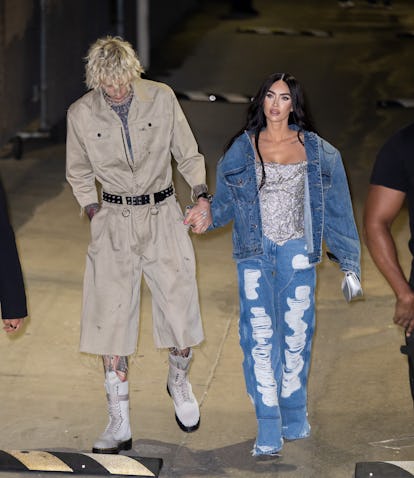 Megan Fox Seemed To Soft-Launch Her Breakup With MGK In The Trendiest Way
Her IG is the blueprint for celeb breakups in 2023.
RB/Bauer-Griffin/GC Images/Getty Images
Megan Fox has clearly been paying attention to the celeb breakup rulebook. Early in the morning on Sunday, Feb. 12, Fox shocked the whole internet with some eyebrow-raising Instagram activity. No, it wasn't just a sus post; she made sure her message was heard by also employing some of the trendiest ways to spark breakup rumors in 2023. Without outright saying she split from her fiancé, Fox still gave followers multiple reasons to believe she was reentering her single era.
These days, anyone with an Instagram account knows about a breakup long before any official announcement. There are certain telltale signs that a relationship is over that you can pick up just from a careful scan of someone's social media, and it's never been trendier for celebs to soft-launch a breakup by making a few subtle IG edits. Following in the steps of Lori Harvey and Larsen Thompson, Fox mass-deleted photos with MGK in them from her grid, and called attention to the clean slate with a damning post. At first, the carousel of glammed-up bathroom selfies that Fox shared on Feb. 12 doesn't seem too out of the ordinary, but the caption and final slide seem pretty telling.
Fox's whole IG strategy highlighted all the ways a celeb can spark major breakup rumors without ever actually saying they've broken up with someone. For all we really know, Fox could still be engaged to her fiancé — they were partying together at the Grammys just days earlier, after all. But she still convinced the whole internet things were over with just a few subtle social media moves; here's how she did it.
1. The Beyoncé Lyric Caption
Miley Cyrus' "Flowers" may be the kiss-off anthem of the moment, but Beyoncé's Lemonade will always be the breakup bible. So, when Fox used a Lemonade lyric in her IG caption, it felt very intentional. Not only that, it was a lyric from one of the most heartbreaking songs from the album, "Pray You Catch Me," which is about a woman learning that her partner cheated on her.
2. The Burning Letter
The final slide of Fox's post stood out from the rest. After three pics of her posing in a bathroom mirror, Fox shared a video of a letter burning in a fire pit. Even if you didn't know the letter-burning breakup belter "Burn" from Hamilton, the imagery stands for itself, especially when paired with nearly every trace of MGK being wiped from Fox's IG grid.
3. The Clean Sweep Of MGK Pics (Minus One)
This one seems to be the quickest growing breakup trend on IG. Fox really ignited the breakup rumors when fans noticed she'd deleted nearly every photo with MGK from her Instagram. Since the couple had not been shy about sharing loved-up couples pics quite often, the mass-delete was noticeable. However, Fox didn't get rid of every MGK pic. She kept up the lovey-dovey ode she wrote to MGK for Valentine's Day in 2021.
4. The Sus "Following" List
In case all that wasn't enough, Fox also used her follows to do the talking. She previously didn't follow anyone at all on the app, but after her internet-breaking post, fans noticed she followed three people: Harry Styles, Timothée Chalamet, and Eminem. Styles and Chalamet are obviously two of the biggest heartthrobs of the moment, but the Eminem follow seems like the biggest slap in the face to MGK, considering the two musicians' decade-long feud.
5. The Revenge 'Fit & Glam Team
Naturally, you have to dress your best to really execute a perfect post-breakup photo shoot. Taking a cue from Olivia Wilde's "revenge dress," Fox made sure to show MGK what he'd be missing in a body-baring outfit full of cutouts, and even had a professional hair and makeup team on hand to really make her photos stunning.