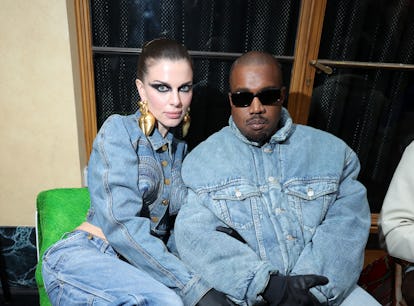 Julia Fox Just Spilled All The Tea About Kanye In Her New Book
Her new book is a treasure trove of wild stories.
Julia Fox and Kanye West's relationship may have been short-lived, but it certainly didn't feel like it only lasted a month given all the wild drama it sparked. And apparently, there were a lot more messed-up power dynamics going on than anyone knew about. Fox is finally spilling all the details on what her time as West's girlfriend was really like, and we should all be thankful she never signed the NDA he tried to give her.
Fox and West's relationship was all anyone could talk about back in January 2022. West was in the thick of his highly publicized divorce from Kim Kardashian, while Fox had come up as the hottest it-girl of the moment thanks to her daring fashion choices and refreshingly outspoken personality.
The two only dated for about a month, and in her newly released memoir Down the Drain, Fox finally opened up about why they broke up. Oh, and she also detailed just about every strange turn that happened during the relationship, including the time that West offered to pay for a boob job for Fox.
Here are some of the most shocking new stories about Fox and West's relationship that Fox revealed in her book.
1. West wanted to pay for a boob job for Fox.
Fox recalled an "uncomfortable" moment she had while playing cards with West, in which the rapper suggested she get a boob job, and then offered to pay for the cosmetic surgery.
"I'll get you a boob job if you want," Fox recalled him saying to her. She went on to describe her discomfort at the comment: "His words stick to me like a piece of lint on my clothes. I can't shake off the uncomfortable feeling."
2. Fox feels West used her just to get back at Kardashian.
After the breakup, Fox reflected on what West's true intentions really were in their relationship. She wrote that she ultimately felt "used as a pawn in this grand master plan to get back at his ex-wife."
3. West censored Fox's Interview magazine essay about their relationship.
The former couple hard-launched their relationship with an Interview magazine essay Fox wrote about her romantic dates with West. In the brief write-up, Fox gushed about how incredible West was as a romantic partner... but it turns out, Fox may not have written a single word of it.
In her book, Fox alleges that West pushed her to write the essay, and when he wasn't satisfied with what she had written, he sent in his own write-up, which is what got published under Fox's name.
4. West brought a stylist with him to dress Fox whenever he saw her.
West's dictatorial control over his girlfriends' wardrobes is pretty well-known at this point, but Fox revealed a whole new layer of this obsession. She wrote that any time she met up with West, he would bring a stylist to dress Fox in outfits he approved of.
5. They broke up over an argument about Fox's friends and West's entourage.
As for the breakup, Fox wrote that it happened when they were in Paris for Fashion Week. The two got into an argument, with West demanding that Fox stop bringing her friends on trips, and Fox fighting back that West should stop bringing his entourage of stylists everywhere.
West gave Fox the silent treatment for a month after the argument, resulting in their breakup.
6. Kanye tried to get Fox to sign an NDA, but she refused.
After the split, Fox recalled how West sent an assistant to her house with an NDA. She wrote that West texted her, "I can't be friends with you if you don't sign it."
"I'll live," she texted back.