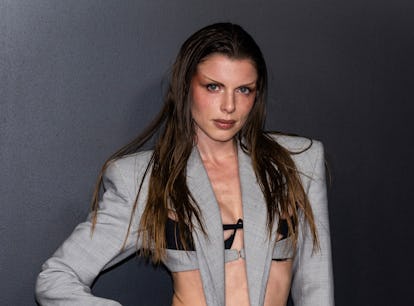 Julia Fox Is At One With The Mice In Her NYC Apartment
Gotham/FilmMagic/Getty Images
Julia Fox is getting real about what it's like living in New York. On Jan. 25, the Uncut Gems star took her followers on a tour of her Manhattan apartment, and let's just say, she didn't hold anything back. Instead of showing off pretty skyline views and aesthetic decor, Fox gave fans a glimpse of her unmade bed, "tiny" bathroom, and cramped kitchen. Oh, and she also revealed her apartment has a "small mice problem." Now that's something you don't hear every day from a celebrity now, is it?
"Come with me on a very underwhelming apartment tour!" Fox captioned her TikTok. "Also to clarify I have only ONE mouse and he's cute 🥰"
At the start of her video, Fox said she chose to do a tour in order to show everyone how her apartment may not be all that different from somebody else's. "I never thought in a million years that I would do this, but I do believe in maximum transparency, and so I'm going to give you guys an apartment tour," she said. "I know I'm going to get roasted or whatever, but hopefully someone can watch this and think, 'OK, well maybe I'm not doing so bad.'"
Fox began her tour by showing off her "bedroom," which was actually her living room. The star explained she transformed the area in order to create a "little playroom" for her 2-year-old son, Valentino. Fox filmed her unmade bed, and when she turned the camera around, Valentino's toys could be seen scattered all across the floor.
After giving her followers a peek at her "nostalgia corner," which featured a mirror with pictures of her son and late friends, Fox turned the camera to two small plants on top of her dresser, which she called her "little grow station where nothing is growing."
Next, Fox filmed a long hallway in her apartment, which featured a stroller, piles of shoes, racks filled with jackets, and no surprise, even more of her son's toys. She also showed off her "tiny bathroom," which honestly, looked like an ordinary bathroom.
Fox's tour also included a look at her kitchen area, which she called "really messy" as she filmed a table filled with all sorts of things, like a cotton candy machine and stacks of papers. There even appeared to be a green Swiffer mop near her closet.
The final room Fox showed her followers was Valentino's bedroom, which she said she "put the most effort" into out of all the rooms in her apartment. "I really wanted him to have a cute room, however, he does not hang out in here at all. He only wants to be in mama's room. He doesn't even sleep in there," Fox said. "Yeah, we're co-sleepers. Sue me. I don't care."
Fox then opened up about why she decided to live in a small apartment. "Personally, I just don't like excessive displays of wealth," she said. "They make me feel icky, especially people who have really big houses. It's just really wasteful when there's so many homeless people in this country, and I just am not really like that."
She ended her video by revealing she has a "small mouse problem," but she doesn't mind. "It's a problem depending on how you look at it," she said. "I kind of let them rock. I appreciate that they, um, at night while we're sleeping, come out and clean up the crumbs that my son drops on the floor."
Since sharing her video, Fox's apartment tour has been viewed nearly 7 million times on TikTok.