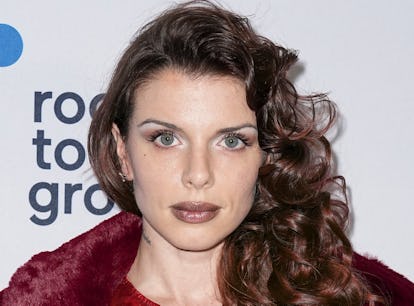 Julia Fox Doesn't "Want Any Boners" In Her "Direction"
She'll pass, thanks for asking.
Variety/Variety/Getty Images
When it comes to sharing the intimate details of her life, Julia Fox isn't exactly known for holding back. Josh Safdie's muse has been sharing plenty of hard-earned pieces of wisdom about life and relationships on TikTok (where she has 1.7 million followers, BTW), and she got candid about her sex symbol reputation in a feature with Interview Magazine.
During the Dec. 1 interview, Charli XCX asked Fox about her sex symbol status, and the 33-year-old's response was so real. "I've been told that I'm a sex symbol for women. That's the best compliment I could ever receive in life. Because prior to that, it was very much giving bombshell," the Down The Drain author said.
Fox didn't feel quite so "compliment[ed]" about men who feel the same way towards her, calling it a "little objectifying." Fox explained, "I'm a sex symbol but I haven't had sex in two years. But listen, if girls want to fantasize about me and it makes them happy, I am so for it. I'd rather have a bunch of girls fantasizing about me than a bunch of dudes jerking off to my photos. I don't want that energy. I don't want any boners in my direction. Ew."
Fox has spoken about her attitude toward sex and sexuality before. In a Sept. 25 interview with The New York Times, she explained why her book was lacking sex quotes about Kanye West. "Because there, like, wasn't any. It wasn't really about that," Fox said. Fox and West dated for a month, from January to February 2022.
She added to XCX in December, "Being asked about Kanye all the time, it's just so annoying. I literally put my whole life in this book. This man is in five pages of it. He's the least interesting part of my book."
Back in September, Fox explained that she "always" planned on including details of her love life — sex included — in her book. "I felt like it was the truth. Why not write it?" she said at the time.
The actor made an effort to be explicit in her memoir, even if sex with West (or lack thereof) didn't make the cut. "I have this thing where, in my personal writing, I don't go into as much detail as I could. I'm like: 'This crazy thing happened. OK, moving on.' So I made it a point to put the reader in the room. I didn't want to skip over things. So maybe some things are too detailed."
Fox's sex life is a frequent topic of discussion for her during interviews. In November 2022, she got vulnerable about her feelings about intimacy during an interview on Emily Ratajkowski's podcast High Low With EmRata. "I don't [like sex]. I can go without," Fox told Ratajkowski at the time. "I'm, like, so good."
Fox, who used to work as a dominatrix, apparently just didn't find sex very, well, sexy anymore. "I'm really desensitized to sex. It's not thrilling for me… I wanna take ayahuasca and see God. To me, that's thrilling. That's cool. It just seems so trivial to me," the Uncut Gems actor explained.
Ratajkowski clarified, "It doesn't excite you?" Fox answered, "No."
The actor has made it clear that her relationship with sexuality has changed over time. Back in February 2022, she appeared on the Call Her Daddy podcast and shared what it was like to work as a dominatrix.
"Through doing this, just for money, I ended up learning about my own sexuality which I'd never really had a chance to explore because my sexuality was always being used against me," she told host Alex Cooper, per The Independent. "My sexuality was something to be guarded and protected and not something to be explored."
However, as she worked in "the dungeon," Fox was able to recognize some of her own desires. She explained on Call Her Daddy, "In this very controlled environment, I was also able to explore my own. There'd be times in a session where I'd be like, 'Damn, this is horny as f*ck'."
According to Fox, her time as a dominatrix taught her that "everyone is a freak and we know it, so it's like I won't judge you and you won't judge me."
This article was originally published on