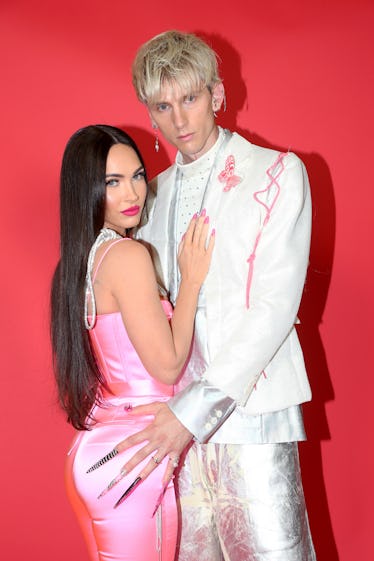 Megan And MGK Drank Each Other's Blood To Get Engaged, And Fans Are Howling Over It
Their announcement video was honestly so romantic.
Phillip Faraone/Getty Images Entertainment/Getty Images
Megan Fox and Machine Gun Kelly's romance has captivated fans from the start, and things just keep getting more interesting. The newly-engaged lovebirds shared a video of their proposal on Jan. 12, but one part of Fox's Instagram caption caught fans' attention more than the rest. Fox said she and her future husband drank each other's blood, and Twitter is losing it.
Fox and MGK have been very open about their less-than-typical romance. In an October 2021 interview with British GQ, they called their relationship the "darkest fairy tale," and it appears nothing has changed. Fox's engagement announcement, which showed her beau getting down on one knee, shared quite the revelation.
"In July of 2020 we sat under this banyan tree," Fox wrote on Instagram. "We asked for magic. We were oblivious to the pain we would face together in such a short, frenetic period of time. Unaware of the work and sacrifices the relationship would require from us but intoxicated off of the love. And the karma. Somehow a year and a half later, having walked through hell together, and having laughed more than I ever imagined possible, he asked me to marry him."
She ended the note: "And just as in every lifetime before this one, and as in every lifetime that will follow it, I said yes…and then we drank each other's blood."
As much as the engagement announcement had fans up in arms, there was an equal amount of chatter about the couple's admission that they drank each other's blood.
It's so sweet to see MGK propose in the spot where he and Fox had one of their first dates. The rapper turned pop-punk star even wrote a song (titled "Banyan Tree") about their meaningful meeting spot. And while Fox's video has 17 million views and counting, it was her caption that really got people talking.