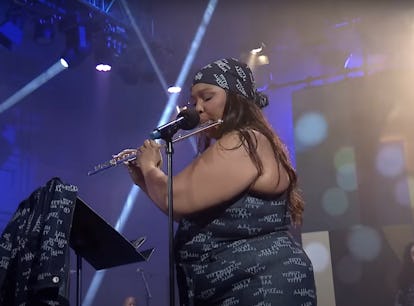 Lizzo Gave "Unholy" The Flute Solo It Deserves
Get this version on Spotify ASAP.
Just when you thought Sam Smith and Kim Petras' steamy anthem couldn't get any better, Lizzo jumped on "Unholy" with a gritty, stripped-down cover complete with a new flute solo. The singer has nailed tons of song covers in the past, but she definitely brought something extra special to her take on "Unholy," incorporating transcendent ad libs, a soulful guitar, and haunting backup vocals to the TikTok-beloved track. At long last, "Unholy" has the flute solo we never knew it needed, and it's all thanks to Lizzo.
Lizzo debuted her surprise cover during her performance in BBC Radio 1's Live Lounge on Feb. 17. The Live Lounge is famous as a stage where the biggest artists try out their own versions of other hitmakers' songs, and Lizzo has proven she's the queen of covers many times before. In the past, she's covered her BFF Harry Styles' "Adore You," BTS' smash single "Butter," and had a little fun with Erykah Badu's "Tyrone" by name-checking her crushes Chris Evans and Drake in the lyrics.
But she wasn't joking around when it came to "Unholy." Lizzo started the song soft and seductive, before showcasing her powerhouse vocals by belting the chorus. Of course, the standout moment came halfway through the performance, when Lizzo picked up her famous flute, Sasha Flute, and trilled an original instrumental solo. Check out the full cover below:
Lizzo couldn't have picked a buzzier song to make her own. "Unholy" has been a TikTok anthem since it was released in the fall of 2022, and it went on to make history at the 2023 Grammys when Kim Petras became the first openly transgender artist to win in a major category after "Unholy" took the Best Pop Duo/Group Performance trophy. Smith and Petras have also broken the internet several times with their bombastic performances of the song on live TV, from their devilish Grammys performance to their Saturday Night Live surprise reveal.
Many artists will choose to release their Live Lounge recordings on streaming if they get a good response from fans, so hopefully Lizzo will let us stream her "Unholy" cover and that fire flute solo to our heart's content soon.