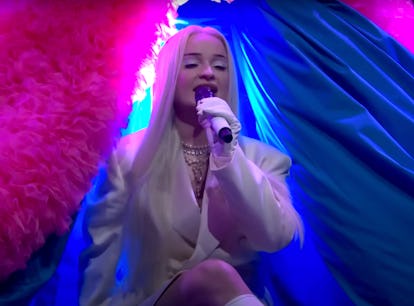 Kim Petras Made Her SNL Debut With The Most Gag-Worthy Surprise Entrance
Aubrey Plaza wasn't the only one to bring some surprise guests to her Jan. 21 Saturday Night Live episode. Musical guest Sam Smith snuck in a few surprises of their own, and the big reveal in their first performance will go down in SNL history. Some fans were wondering if Smith would bring out their "Unholy" collaborator Kim Petras to the SNL stage, and they delivered in a major way. Petras' reveal under Smith's massive gown sent the internet into a spiral, as tweets and memes of the epic moment blew up.
Though there was some speculation online about Petras potentially showing up for Smith's SNL appearance, it was never confirmed. So her big reveal also came as a surprise to most viewers. To make that surprise even more shocking, Smith revealed her in the most over-the-top way possible. Halfway through their "Unholy" performance, Smith opened the gigantic pink gown they were wearing to reveal Petras perched underneath. Yep, she'd been hiding onstage the whole time. After the big reveal, Petras launched into her "Unholy" verse, and the duo finished the performance together.
The moment wasn't just gag-worthy, it was also historic. The performance marked the first time a publicly nonbinary person and a trans woman performed on the SNL stage. Smith previously performed as SNL's musical guest both in 2014 and in 2017, but those were before they came out as nonbinary in 2019. The "Unholy" performance was Petras' SNL debut.
Of course, the dress reveal was the moment that truly stole the show, and it left fans screaming.
It also led to a ton of hilarious jokes and memes online.
You can check out the full "Unholy" performance for yourself here:
But Petras wasn't the only iconic guest Smith snuck onto the Studio 8H stage. For their second performance of the night, Smith performed an ethereal arrangement of their new song "Gloria" with a full choir serenading none other than Sharon Stone. Stone even stuck around to appear in a detective noir-inspired sketch, playing the mother of Aubrey Plaza's character.
Leave it to Sam Smith to not only deliver transcendent vocals, but also showstopping reveals and iconic guest stars.