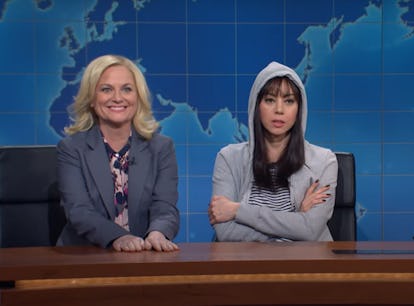 Aubrey Plaza & Amy Poehler Revived Parks & Rec's April & Leslie On SNL
I've missed them so much!
NBC
Aubrey Plaza used her Saturday Night Live hosting debut to poke fun at all the major moments in her career, from using her monologue to relive her beginnings as an NBC page to spoofing her most recent hit series, The White Lotus. But the real highlight was watching her bring back her first iconic role, that of the apathetic assistant April Ludgate. Plaza even brought along an old pal for her Parks & Recreation reunion, as Amy Poehler joined her in character as Leslie Knope to bring some Pawnee nostalgia.
The reunion occurred during the "Weekend Update" segment, when Colin Jost invited April out to talk about working for local city management. Although Plaza is all about glam looks and her new blonde 'do now, she perfectly reverted to April's emo style with a long black wig, a gray hoodie, and jet-black nails. Naturally, April was immediately annoyed by Jost, and brought out her eternally perky former boss Leslie Knope to handle the rest of the interview.
Poehler snuck in some meta jokes during her appearance, like calling out her own stint as a "Weekend Update" co-host with Seth Meyers from 2006 to 2008: "I used to watch this when Seth Meyers did it all by himself with no one else."
She also reminded Parks & Rec fans of Leslie's longtime crush on Joe Biden, who appeared in a quick video message during Plaza's opening monologue. "Quick question: President Biden, when he Zoomed in before, could he see me, or were the cameras off?" Leslie giddily asked.
Plaza and Poehler starred as the polar-opposite co-workers April and Leslie in the political mockumentary Parks & Recreation from 2009 to 2015. Though the surly April resented Leslie's incessantly optimistic attitude at the start of the show, the two ended up being close friends in later seasons, and their dynamic remains one of fans' favorite elements of the series.
The two previously reunited in character — along with the rest of the show's cast — in a 2020 reunion special filmed over Zoom. Poehler also briefly appeared during Plaza's opening monologue for some quick well-wishes at the top of the show. Clearly, these two are always down for a little bit of Pawnee love whenever they can get together.