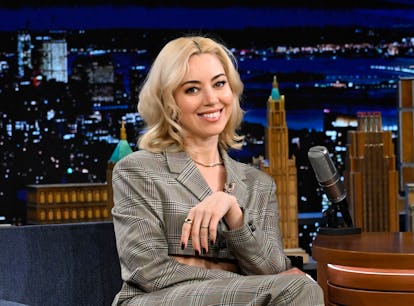 Aubrey Plaza's Failed SNL Audition Was Even Weirder Than You'd Imagine
Plot twist: Now she's returning to host the show.
NBC/NBCUniversal/Getty Images
Aubrey Plaza's SNL hosting debut on Jan. 21 won't be her first experience with the legendary sketch comedy series. Not only did she used to intern for the show back when she was getting her start, but she also auditioned to be part of the cast. Ahead of her big hosting gig, Plaza recounted her SNL audition story, revealing the ridiculous characters she came up with that failed to impress the casting team.
Plaza looked back on her previous SNL experiences during her Jan. 17 appearance on The Tonight Show with Jimmy Fallon. She revealed that around the time she was interning at Rockefeller Center in the mid-2000s, she had an audition for Saturday Night Live.
"I didn't make it to the Lorne [Michaels] audition, the famous final audition, but I did a preliminary first-round showcase," Plaza said, going on to reveal the characters she auditioned with. "I remember one character I did was like a Puerto Rican news reporter that was always trying to make all of the news stories sexy, even if they were horrific news stories. I was just trying to like, sex up the news or something."
Her other character also had a strange on-camera personality. "And then the other one, I was a pill-popping housewife that had my own talk show called 'Celebri-Tails,' where I would just name celebrities and name what kind of tail they would have," she recalled. "Like I would say, 'Lindsay Lohan would have a bushy squirrel's tail.' Or, like, 'Bill Clinton would have a polar bear's nub.' Anyway, I didn't get on the show."
Of course, it turned out Plaza didn't need SNL to become one of the biggest comedy stars. Her role as the sarcastic assistant April Ludgate in Parks & Recreation helped make her the go-to actor for dark, deadpan roles throughout the 2010s, and she's since expanded her repertoire to take over other genres with buzzy hits like Ingrid Goes West, Emily the Criminal, and most recently, her nuanced role in Season 2 of The White Lotus.
So yeah, Plaza's SNL tryout didn't go so well, but look who's laughing now. Her full-circle moment hosting SNL airs Jan. 21 at 11:30 p.m. ET on NBC.