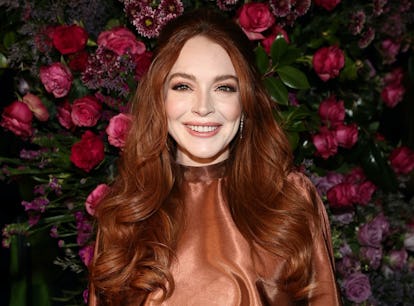 Lindsay Lohan Is Officially A Mom & Her Baby's Name Is So Fetch
New York Daily News/Tribune News Service/Getty Images
Lindsay Lohan's not just a regular mom, she's a cool mom. The Mean Girls star welcomed her first baby in the summer of 2023, and his name has an important meaning to Lohan's new lifestyle away from Hollywood. Here are all the details about Lohan's baby boy, and the beginning of her mom era.
Reports that Lohan had given birth first surfaced on July 17, with Page Six reporting that she and husband Bader Shammas had welcomed a baby boy named Luai to their family. The exact birth date hasn't been revealed yet, but Luai was most likely born very recently. The announcement came four months after Lohan first publicly revealed she was pregnant back in the middle of March 2023.
The name Luai carries a strong significance in how Lohan likely wants to raise her son. It's a name that means "strong" or "steady" in Arabic. Ever since announcing her pregnancy, Lohan has maintained that she wants to raise her child in Dubai, the city she relocated to nearly a decade ago to escape the celebrity culture in major American cities. By giving her son a traditional Arabic name, it's clear she wants to continue to keep her family rooted in the culture of Dubai.
Lohan began dating Dubai-based investment banker Bader Shammas in 2021, revealing the two got engaged at the end of that year. In the summer of 2022, Lohan and Shammas got married, and Lohan got pregnant a few months after that.
Although Lohan moved to Dubai to avoid her issues with Hollywood, she's recently been making a return to the spotlight. Last winter, she starred in the Netflix holiday rom-com Falling for Christmas, plus she's launched her own podcast and started appearing in major commercials. That said, she's still not interested in returning to one of her most iconic roles. Although a film version of the Mean Girls musical is in production, Lohan has made it clear that she does not want to appear in it.
Clearly, the only big project she's planning to focus on for the moment is her newborn son.