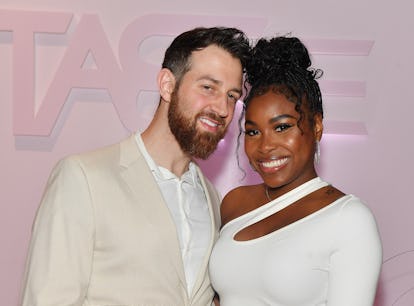 That Rumor About Lauren & Cameron Replacing The Lacheys As LIB Hosts Was Wrong
Nick and Vanessa are here to stay.
Paras Griffin/Getty Images Entertainment/Getty Images
Lacheys, you stay. Despite intense backlash against Love Is Blind hosts Nick and Vanessa Lachey's handling of the Season 4 reunion, new reports have shut down rumors that the duo will be replaced. Earlier, there was speculation that Season 1 power couple Lauren Speed and Cameron Hamilton would step in as the show's new hosts, but apparently, that's not happening.
On April 26, Entertainment Tonight confirmed that Nick and Vanessa Lachey will stay on as the hosts of Love Is Blind, which has already been picked up for a fifth season. The confirmation came shortly after an April 25 Daily Mail report that Netflix was considering bringing back Season 1 success story Speed and Hamilton to replace the Lacheys as hosts. The Daily Mail's source claimed Netflix was looking for new hosts after the "complete disaster" of the Season 4 reunion. After the reunion aired, a petition blew up online calling for Netflix to fire the Lacheys, calling out the hosts for picking favorites and making insensitive comments.
Several viral social media posts suggested Speed and Hamilton would be the perfect replacements, considering they are the experiment's greatest proof of success after getting married in Season 1 and remaining fully in love five years later. Notably, Hamilton called out how inappropriate it is for people to ask couples when they are planning to have a baby on Instagram recently, which was a major gripe fans had with Vanessa during the reunion, but he clarified in the comments that the message was "not aimed at a specific person."
But despite the fan demand, the Lacheys will continue to be the faces of Love Is Blind. There's even been some online speculation that the duo has already been involved in filming four additional seasons of the show that have yet to air, but of course, that's just hearsay for now. Netflix has only officially picked up Season 5 of Love Is Blind, though considering how far in advance the streamer tends to film its reality dating shows and how popular LIB has become, it's not beyond the realm of imagination that multiple seasons are already planned or even in production.
So buckle up for even more mess as Love Is Blind continues, because the Lacheys aren't going anywhere.