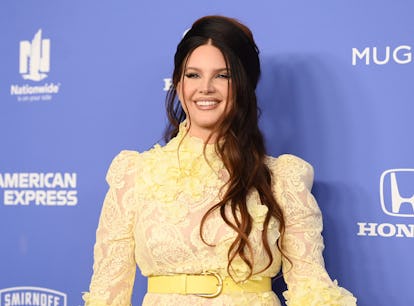 Finally, Lana Del Rey Explained Her Recent Waffle House Gig
Her short-lived food career had fans scratching their heads.
Gilbert Flores/Billboard/Getty Images
Sorry, "A&W." Lana Del Rey is fascinated with another Southern restaurant. Earlier this summer, the singer won the crown for the oddest celebrity sighting: She was seen working at a Waffle House in Florence, Alabama. Her new waitressing gig went viral on social media, with many fans wondering what made the singer trade in her microphone for a long commute (she's a New York-meets-California girl) to the South. In a new interview with The Hollywood Reporter, Lana explained how the unofficial job came about.
Surprisingly, her stint at Waffle House had nothing to do with her latest album. In the Sept. 21 cover, the "Grants" singer revealed she traveled to Florence in July. Nearly every morning, she and her two siblings ate at the restaurant chain. "We were on our third hour, and the servers asked, 'Do you guys want shirts?' "Hell yeah! We were thrilled," Lana said. Well, at least she didn't have to sit through a job interview.
Once she was given a uniform and name tag, it was history. A Waffle House manager posted about Lana's first day on Facebook, showing the singer preparing coffee and talking to customers. Shortly after, a fan account on Instagram shared a post of Lana posing with fans while on the clock.
It wasn't long until both of these posts went viral, and many fans were either convinced the singer switched career paths or genuinely confused. Meanwhile, others thought she was filming a music video for one of her tracks on Did You Know That There's A Tunnel Under Ocean Blvd. While it wasn't the latter, the singer hasn't given up her full-time stint as a performer — she just loves a small-town breakfast spot.
That can be seen in the interview, where Lana talked about the opportunity to serve a customer. "This guy, a regular, comes in every day and orders two things, so they were like, 'Just go get it for him!' I brought him a Coke. No ice. And an empty cup," she said, adding the second cup was for the man's tobacco spit juice.
Lana then reflected on fans' reaction to her appearance at the restaurant. "I wish my album had gone as viral," she joked, adding that people she hadn't talked to in decades followed the Waffle House hysteria. "I woke up to, like, 10,000 texts the next morning — some from folks I had not heard from for ten years. 'Saw your picture at the Waffle House!' I was like, 'Did you hear the new album?'"
It's time to add her and her dad's albums to your music rotation.