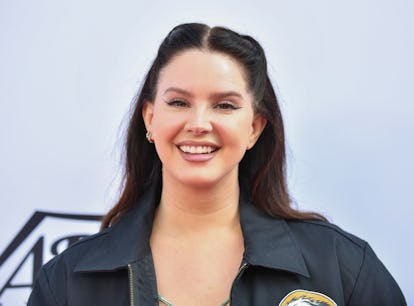 Lana Del Rey's New Album Cover Art Is NSFW
The tracklist is finally here.
Rodin Eckenroth/FilmMagic/Getty Images
Lana Del Rey's new era is near. On Jan. 13, the singer shared the tracklist and new cover art for her ninth studio album, Did You Know That There's A Tunnel Under Ocean Blvd, on social media. Lana also announced the album was briefly delayed and will now drop on March 24, two weeks after its original March 10 release date. Well, there's a reminder you can't rush potential sonic greatness.
Lana posted the NSFW artwork on her private Instagram account, @honeymoon. "March 24 now thanks. Box set, and merch," she captioned the post, which sees the singer posed topless while holding what appears to be the aforementioned box set. The post was then taken down for violating the platform's guidelines, which Lana deemed was "fair" in her Instagram Stories, according to Stereogum.
Lana also released the album's lengthy tracklist in the now-deleted post. As reported by Pop Crave, the pop culture news updates account on Twitter, the list in split in four sides and features titles such as "Paris, Texas" and "Grandfather Please Stand On The Shoulders Of My Father While He's Deep Sea Fishing." OK, that's a mouthful, but the structure behind her lengthier titles seems to be intentional. In May, the singer told W magazine that she practiced "meditative automatic singing" while recording this new album. According to the singer, this allowed her lyrics to feel more conversational and wordy.
Lana first teased the record by dropping the lead single in December 2022. The dreary track — which is titled after the album — embodies her signature ghostly sound, and sees her confronting her fear of being forgotten by a loved one.
On the album's initial cover art, Lana teased collaborations with Jack Antonoff (yes, that songwriting giant), Jon Batiste, Father John Misty, Judah Smith, Tommy Genesis, and more. The forthcoming album is a follow-up to several major music moves from the singer. Lana recently collaborated with Taylor Swift on her Midnights hit, "Snow On The Beach." She also released two albums last year: Chemtrails Over The Country Club and Blue Banisters.
Here's everything you need to know about Lana's forthcoming album.
Did You Know That There's A Tunnel Under Ocean Blvd Release Date
Lana's forthcoming album will drop on March 24, 2023.
Pre-Order Information For Lana's Upcoming Album
Did You Know That There's A Tunnel Under Ocean Blvd is available to pre-order now. Fans can purchase the album as a CD ($14), a cassette ($15), and two vinyl records (one standard and the other exclusive). The standard vinyl, $36, features the yellow edition cover art. Meanwhile, the exclusive option offers a white vinyl for $37.
Did You Know That There's A Tunnel Under Ocean Blvd Tracklist
Lana recently shared the album's tracklist, which boasts 16 songs. The album also feature collaborations with Bleachers, Tommy Genesis, and pastor Father John Misty.
"The Grants"
"Did You Know That There's A Tunnel Under Ocean Blvd"
"Sweet"
"AW"
"Judah Smith Interlude"
"Candy Necklace"
"Jon Batiste Interlude"
"Kintsugi"
"Fingertips"
"Paris, Texas"
"Grandfather Please Stand On The Shoulders Of My Father While He's Deep-Sea Fishing"
"Let The Light In" (Feat. Father John Misty)
"Margaret (feat. Bleachers)"
"Fishtail"
"Peppers" (Feat. Tommy Genesis)
"Taco Truck x VB"