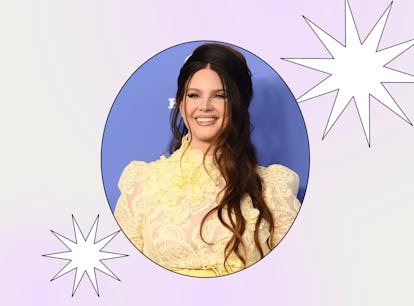 Lana Del Rey's "The Grants" Will Have You In Your Sad Girl Era
It's a beautiful ode to family.
Gilbert Flores/Billboard/Getty Images
It's fascinating that Lana Del Rey began the rollout to her upcoming album, Did You Know That There's a Tunnel Under Ocean Blvd, with worries of being forgotten by the world. Ever since she released her debut single — which is titled after the album — last December, the singer offered up a second hit ("A&W") and was recently praised at Billboard's Women in Music Awards earlier this month. Clearly, her talent is on everyone's radar. However, those accolades aren't stopping Lana from reminding the world of her melancholic grandeur. On Mar. 14, she surprise-dropped her third single "The Grants," and it's quite a powerful release.
"The Grants" is a nod to the singer's family name, and that reference echoes throughout the song. Over lush, gospel-tinged piano chords, Lana croons about cherishing memories she's created with her loved ones. To her, there's a beauty in leaving a permanent mark in people's lives, as they'll always have that reminder of who you were to them. This track also features backing harmonies from singers Melodye Perry, Pattie Howard, and Shikena Jones, whose vocals mirror that of the lyrics. Their presence not only adds texture to the melody, but reminds listeners how important background singers are in building depth and color in musical storytelling. Let's dive into the lyrics.
"The Grants" spurs open with Perry, Howard, and Jones recording their backing vocals for the chorus. Their harmonies teeter between hallowed low notes and ringing falsettos, and that contrast later sounds sublime against Lana's voice. After the trio sings their final line, Lana enters with her signature drama in the first verse. There, she wonders if her and her mystery beau's relationship will last long enough to create memories. She then takes listeners to church in the pre-chorus, softly purring how her preacher taught her the importance of building unforgettable moments in a relationship.
"Do you think about Heaven? Oh oh / Do you think about me? / My pastor told me / 'When you leave, all you take' / 'Uh-huh, is your memory,'" Lana sings.
The pastor's words stuck with Lana, and she informs her partner in the chorus that she'll hold her memories of them forever. She croons,
"And I'm gonna take mine of you with mе / I'm gonna take mine of you with me."
From the way of her voice tenderly breaks, listeners can feel that Lana wants this relationship to be as timeless as her connection with her family. She reiterates that in the second verse, where she admits she'll push through the rocky times in her relationships in order to keep their bond alive.
"So many mountains too high to climb / So many rivеrs so long, but I'm / Doin' the hard stuff, I'm doin' my time / I'm doin' it for us, for our family line," she coos.
This revelation leads Lana to dedicate the bridge to her family. She sweetly recalls all the fruitful moments she's had with them, such as witnessing her grandmother's final smile or bonding with her sister's first child. With rich conviction, she reveals that she'll carry each of those memories as tiny treasures in her heart. I couldn't think of a better way to honor your loved ones.
Listen to "The Grants" below, and check out the full lyrics on Genius.