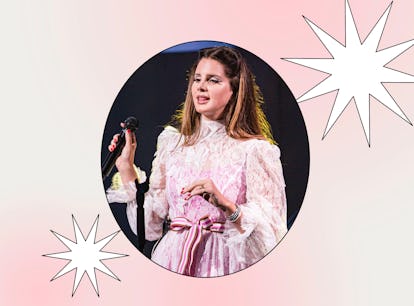 Here's The NSFW Double Meaning Behind Lana's "A&W" Lyrics
It's got nothing to do with the fast food restaurant.
Daniel Knighton/Getty Images Entertainment/Getty Images
Lana Del Rey wouldn't be the artist she is today without creating experimental ballads. She knows how to build a world of fantasy, where the whimsy lies in her storytelling of cynical and slightly jaded characters dealing with love, sex, and shady breakups. Sure, that sounds like a dark rom-com; however, there's so much appeal behind Lana's lyrics that you're intrigued to hear about these characters' stories. Enter "A&W," a moody tune about how women struggle with societal pressure.
"A&W" is the latest single from her upcoming album, Did You Know That There's a Tunnel Under Ocean Blvd. With ghastly vocals, Lana opens the seven-minute track by comparing her younger self to the woman she's now become. She harps on her appearance, expressing how those around her have sexualized "her face" and the "shape of her body" unprovoked for years. She sings,
"I haven't done a cartwheel since I was nine / I haven't seen my mother in a long, long time / I mean, look at me, look at the length of my hair, my face, the shape of my body / Do you really think I give a damn what I do after years of just hearing them talking?"
Her voice breaks into a high-pitched cry while singing this line, seemingly exhausted of the world sexually objectifying her. She's so burnt out that she no longer cares if the world views her as an "American whore" — the acronym of the track's title. Only Lana could turn a classic root beer brand and fast food restaurant into a gripping testimony about owning your sexuality.
Lana does just this as she climbs towards the chorus. In a haunting timbre, she details how she's embracing her body. For her, learning her desires doesn't have to be in the form of true love, but rather passionless sex.
"Call him up, come into my bedroom / Ended up, we f*ck on the hotel floor / It's not about having someone to love me anymore / This is the experiеnce of being an American whore," she croons in the chorus.
As she sweeps through the two more verses, the track takes a sonic turn. Around the four-minute mark, Lana trades those original sharp keys for a pulsing trap beat and interpolates Little Anthony and the Imperials' 1960 R&B hit, "Shimmy, Shimmy, Ko Ko Bop." Throughout this section, Lana half-raps about how enamored she is with a man named Jimmy, even though he's a destructive character. He only loves her "when he's high," but that's enough compassion for her to continue entertaining him.
"Jimmy, if you leave the house, find me in the club / Your mom called, I told her, you're f*cking up big time / But I don't care, baby, I already lost my mind," she repeatedly whines in a characteristically bratty way.
"A&W" is a quintessential Lana record, bubbling with chaotic intrigue, absurdly long yet expressive lyrics, and Americana symbolism. With that said, her new era sounds so promising.
Listen to "A&W" below and read the full lyrics to "A&W" via Genius.