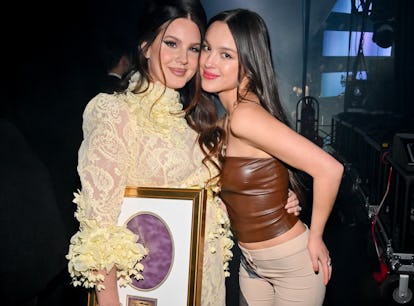 Lana Del Rey & Olivia Rodrigo Are Music's New BFF Duo
The "Snow On the Beach" singer is obsessed with "drivers license."
Michael Buckner/Billboard/Getty Images
Step aside, Jennifer Lopez and Jennifer Coolidge: there's a new iconic friend duo in town. Lana Del Rey and Olivia Rodrigo had the sweetest interaction at the 2023 Billboard Women in Music Awards, and fans can't get enough of it. These two hold the crown in delivering layered sad girl hits, so their bubbling friendship makes so much sense. Ugh, imagine if their kinship leads to a collaboration.
On Mar. 1, Lana was honored with the Visionary Award for her chart-topping career. Rodrigo, who was named Woman of the Year at last year's ceremony, presented Lana with the accolade. During Rodrigo's introduction, she praised Lana for "raising an entire generation of music lovers and songwriters" like herself and teaching artists to own their vulnerability when creating melancholic tunes. She also hailed Lana's Born To Die bop, "Video Games," as the best love song of all time, to which Lana mouthed "I love you so much" from her seat in the audience. BRB, currently sobbing.
Shortly after, the "A&W" singer graced the stage to accept her award. Before diving into her speech, Lana also gave Rodrigo her flowers. "[Rodrigo] is so endlessly glamorous and talented. I can't tell you how much it means that someone who wrote "drivers license" is standing next to me," Lana said. She also thanked CEO of Interscope Records, John Janick, for helping her build a friendship with Rodrigo and Billie Eilish as they're all signed to the same label.
Lana continued her acceptance speech, noting she was grateful the music industry was seemingly more open to artists owning their creative freedom. "When I released my first album 14 years ago, the waters were not quite as warm," she said, becoming visibly emotional. "I'm really happy for everyone who feels like it's a wonderful time in the culture to be themselves and to express themselves. It didn't feel that way in 2008."
She concluded her words by stating that being happy has always been her ultimate goal, and receiving the award helped her achieve that feeling. The duo then headed backstage, where they engaged in a photo-op.
That wasn't Lana and Rodrigo's only wholesome moment of the night. The two, who were seated together, were also seen hugging in the audience.
Clearly, this month is a memorable one for Lana's career. Not only did the experimental singer receive this notable award, but her long-awaited album Did You Know That There's a Tunnel Under Ocean Blvd drops on Mar. 24. If Lana decides to add a couple bonus tracks to the record, including a tear-jerking ballad or angsty hit with Rodrigo would be *chef's kiss.*