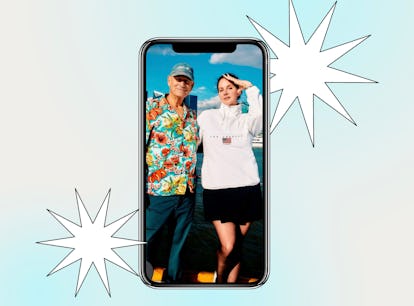 Lana Del Rey's Dad Loves That He's The Newest "Nepo-Daddy" In Town
He's not a regular dad, but a "nepo-dad" with a debut album on the way.
@TIKTOK/GQ
Lana Del Rey's dad, Rob Grant, wants to make history: He's aiming to be the first nepotism dad to exist in the music industry. Yes, that's now a thing. Like many new artists, Grant is currently on a promotional tour for his upcoming debut album, Lost at Sea. The 69-year-old aspiring singer isn't shy about his musical connection to his daughter, and he proudly accepted the 'nepo-daddy' title in an interview with GQ. Well, there's always a first for everything.
On May 23, Grant and Lana spoke about his blossoming career while cruising up the Hudson River on a yacht. "The nepo daddy thing I love," he said in a profile for the outlet, noting he first encountered the word in his Instagram comments. "I thought, 'My God, this would make really cool merch.'" Hm, 'nepo-daddy' stamped across the back of a linen beach shirt? The vision is certainly there.
Grant has been committed to this new musical venture for months. He first announced his debut album, which drops on June 9, on Instagram in February. At the time, he kept details minimal and only shared the record's cover art. The singer certainly took inspiration from Lana's glossy cover for her 2019 album, Norman F*cking Rockwell; however, instead of cradling someone, he's broodingly staring out at the sea while holding onto his boat.
So far, Grant has released four singles off the album: "Setting Sail on a Distant Horizon," "Poetry of Wind and Waves," "The Mermaids Lullaby," and "Deep Ocean Swells." Clearly, those blue waters were his muse for the project. Being that Grant's a newly appointed 'nepo-daddy,' he made sure to work with his daughter and her sonic connections on Lost At Sea. According to GQ, Lana lent her vocals to the album's title track and another titled "Hollywood Bowl," while her longtime collaborator, Jack Antonoff, is a producer on the record.
In the interview, Grant said he was "happy to be the first nepo daddy," to which Lana noted was inaccurate. She said that Amy Winehouse's father, Mitch Winehouse, was really the first nepo dad, after he attempted to launch a career as a jazz artist following his daughter's death.
"Well see, back then, during Mitch's time they didn't have nepo babies. It's only because of the whole nepo baby thing. Who wrote that story?" Grant asked, referencing New York magazine's deep dive into Hollywood nepotism babies from December 2022.
Lana then spoke up, sharing that "someone without a brain" wrote the article. "It's just another way to rile simple folks up," she said, her words seemingly echoing the reluctance some celebrities who fit under the 'nepo-baby' title have about addressing their connections.
Grant then chimed in, explaining why he's embracing the nepotism tag. "Nobody wants to give anyone any credit for doing anything. God forbid that you actually have talent. People don't want to acknowledge that," he said. "They will find a way to undermine you and to really make you feel bad about yourself. So the nepo daddy thing, I love that. Hell, I'll sell you hats, T-shirts, canvas bags, you name it."
Obvs, Grant is a man of music and apparel.