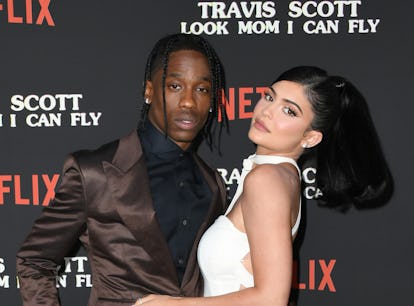 Kylie Revealed Her & Travis Scott's Baby Boy's Name Is No Longer Wolf
Their second child together is nearly three months old.
Jon Kopaloff/FilmMagic/Getty Images
Kylie Jenner just made a huge announcement on Instagram, as she is known to do. After announcing the birth of her second child with Travis Scott, a boy named Wolf Webster, last month, Kylie posted a touching YouTube video on March 21 chronicling her pregnancy with their son. Hours later, the youngest Kardashian sister uploaded another Instagram Story explaining that she and Scott, who are also parents to daughter Stormi, are changing their baby boy's name.
"FYI our son's name isn't Wolf anymore," she wrote, alongside two cold sweat-face emojis. "We just really didn't feel like it was him." Her reason for making the announcement so publicly? "Just wanted to share because I keep seeing Wolf everywhere," she continued before ending her post with a folded hands emoji.
Kylie didn't say if she and Scott have settled on a new name for their baby, but there's no doubt their son is entering a loving family. Her pregnancy video featured all the Kardashian sisters sending loving messages to the newest member of the family.
Kylie first announced the arrival and name of her newborn in an Instagram Story on Feb. 11. At the time, she said that her baby boy is named Wolf Webster. The post, which did not include a photo, simply had Webster's name and a white heart emoji against a black background.
Fans were surprised to hear the name, especially since many guessed it would be "Angel." The day Jenner announced the birth of her second child on IG on Feb. 6, fans noticed Kim Kardashian used an angel emoji and Kris Jenner wrote "Angel Pie" in the comments section. This lead some fans to believe it was a hint toward her baby's name. Not to mention, in a Jan. 14 IG, Jenner shared a photo of a piece of fabric with "Angel Baby" embroidered on it.
Initially, Kylie's announcement recalled other celebs who'd named their child Wolf. According to US Weekly, Lauren Conrad, Zooey Deschanel, and Eve all have used Wolf as a middle name for a child. In fact, Eve announced the birth of her son the same week as Kylie: Wilde Wolf Fife Alexander Somers Cooper.
Throughout her pregnancy, Jenner routinely shared updates on Instagram. She first announced she was pregnant in September with a touching video on Instagram that showed Scott and her mother Kris' reactions to the news. Following this, Jenner routinely updated her IG with baby bump pics in a variety of chic looks.
Though she's a new mom to two, Jenner isn't stepping away from the spotlight anytime soon. She's also kept busy with her brand, Kylie Cosmetics. In January, the brand announced a Valentine's Day collection of heart-shaped products.
Next up, she'll star in the Kardashian family's new Hulu reality show. Naturally, the show is titled The Kardashians, and the official trailer dropped on Feb. 22. The show premieres in just a few weeks onApril. 14, meaning Jenner and her famous family will be back on our TV screen soon enough.
Until then, congratulations to Jenner, Scott, Stormi, and their baby boy.
This article was originally published on