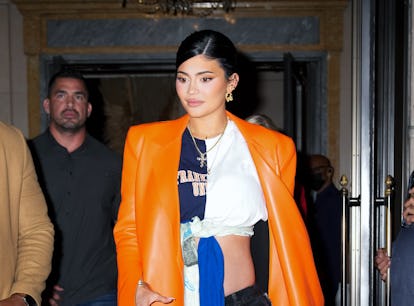 Kylie's Video Tribute For Her Son Wolf Has So Many Special Kardashians Moments
So much love for her baby boy.
Gotham/GC Images/Getty Images
Kylie Jenner is one proud mom. The Kardashians star just shared a touching tribute video on YouTube to honor her and Travis Scott's newborn son, Wolf Webster. The video, titled "To Our Son," chronicles Kylie's pregnancy last year leading up to welcoming Wolf, their second child, on Feb. 2.
The heartfelt video, which is over nine minutes, includes intimate BTS moments of the Kardashian family showing just how much they love Kylie and baby Wolf. Grab your tissues because the footage is sure to make you sob.
The clip begins with Kylie and Travis learning they're having a second child together. Next, Kylie is shown at a doctor's appointment for an ultrasound. After coming back home, she, Travis, and their daughter, Stormi, tell Kris Jenner she's about to become a grandmother again. "This is one of the happiest days of my life," Kris says in the video.
Kylie then gives fans a glimpse into her maternity photoshoots and extravagant giraffe-themed baby shower. "I am 34 weeks today, which means I've only got about a month left," Kylie says in the video, before talking to Stormi. "You and the baby could have the same birthday. You OK with that?" she asks her daughter?
Of course, Stormi was more than excited to meet her baby brother soon. "Yes!" she replied.
Several family members also gave shoutouts to the couple and their future baby, including Travis' mother Wanda Webster. In a video at what appears to be a family party, perhaps even a baby shower, Webster recounts her son calling her at 2:00 a.m. with the pregnancy announcement. Webster affectionally refers to her son as, Jack. Travis' birth name is Jacques Webster.
"You know, this was the best thing ever for him. I see a different person in my son," she says in a message directed at Kylie. "And you, as a young mother, I was just telling somebody at the party today, what a wonderful mother you are. You always think about Stormi first, and that is so wonderful. I'm so blessed, and I'm so happy that you are the mother of my grandchildren."
Kim Kardashian then shared a sweet message with her daughter North by her side. "It's auntie KiKi and Northie," Kim says, addressing baby Wolf. "I just want you to know [that] we love you so much. We got you for life. I pray that you love the family that you are born into."
Khloé Kardashian then bursts into the frame, and I'm now feeling all the emotions. "Because we're very special. We love you, and we can't wait to meet you," Kim continues.
Kris, Kendall Jenner, Kourtney Kardashian and Khloé again appear with touching messages to baby Wolf in the video, which is scored to orchestral music. Finally, the video ends with the family celebrating Wolf's arrival in the delivery room.
After uploading the YouTube video, Kylie then put up two Instagram posts with more photos from her pregnancy, including joyous family moments and more glamour pics.
We hope to see more of Kylie's pregnancy when The Kardashians arrives on Hulu on April 14!