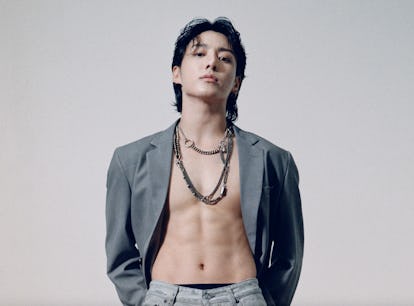 On Golden, Jung Kook Takes His Rightful Seat At The Pop Table
This album is guaranteed to make listeners blush.
Courtesy of BigHit
Jung Kook has always had a vision for his solo project. "This is what I want: Three main tracks all with their own music videos [and] each has its own choreography, but with different styles," he said in February 2021, an optimistic smile affirming his words at the time. While that seemed to be the desired plan for his then-upcoming mixtape, that release never left the studio's grounds. Fortunately, this delay led to a larger moment for the singer: his debut album, Golden.
True to his perfectionism, Jung Kook kept his two-year promise on Golden. Ahead of its release on Nov. 3, the singer set the bar high with two chart-topping singles: "Seven" featuring Latto (which recently became Spotify's fastest record to reach a billion streams) and the Jack Harlow-assisted "3D." Then, to top off Golden's arrival, he shared the music video for its main track — and already, a hit that has me in a chokehold — "Standing Next to You."
These tracks are more than just flirty appetizers, but a reminder that Jung Kook's idol status isn't limited to his presence in BTS. He is the golden maknae, after all. He unapologetically reclaims that nickname (a nod to being the youngest, multi-talented member of the band) on the album, and it's clear he knows this is his main character moment.
Jung Kook's at his most unfiltered on Golden, an aura that can turn the simplest of melodies into an impressive statement. He takes listeners on a nonstop ride of emotions, where one stop sees him serenading listeners over silky R&B while the other explores different hues of pop. Even during the album's dullest moments, he's still a student of his craft. Welcome to the solo pop star circle, Jung Kook.
In honor of Golden's release, let's rank the album in its entirety.