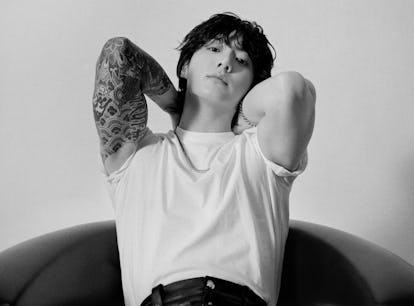 Jung Kook's "3D" Is A Saucy Nod To Early Aughts Justin Timberlake
The singer's in his "Sexyback" era.
Courtesy of BIGHIT Music
The allure of Y2K male pop stars needs to be studied. The late-90s to 2000s birthed a class of male singers that had a certain suaveness — that je nais se quois, if you will. From Usher's 'begging in the rain' serenades (which still have women down bad) to Justin Timberlake's flirtatious hits, these artists gave listeners an iconic experience that's still being fawned over decades later. While that magnetism has been lacking from male acts in the last few years, some people believe there's one artist looking to bring that back: BTS' Jung Kook.
Jung Kook's been teasing his main character pop moment for nearly two years. And while that energy can be felt on his earlier releases, it recently hit a new echelon. On Sept. 29, the singer released "3D" featuring Jack Harlow. This collaboration delivers on BIGHIT Music's, his label, promise that he's in his R&B-pop bag. Specifically, the Korean singer channeled his inner Timberlake to produce this saucy hit, and ARMYs were quick to notice the inspiration.
One fan called Jung Kook "Robin Thicke and Justin Timberlake's lovechild," while another noted "3D" personifies the charm Timberlake had during his NSYNC days. While these nods might sound dramatic, it's definitely not far-fetched. From the moment the track's funky baseline spurs in, it's clear that Timberlake's 2002 gem Justified was on Jung Kook's mood board. The beat whirls in a rhythm reminiscent of "Señorita" — one of the slickest tracks in Timberlake's discography — and Jung Kook sultrily builds on that vibe until the outro.
Luckily, that essence doesn't stop at the instrumental. The BTS member showed he's a potential graduate from the University of Justin Timberlake in the tune's music video. Ugh, we love an artist who studies the greats.
The video begins with Jung Kook setting the tone. He wants to see every inch of his partner, but there's a considerable distance between them that's stopping his desires. Instead of wallowing in that separation, the singer imagines "seeing you in motion" in all dimensions. He shows that eagerness in several scenes, such as dancing in multiple portals, walking up an all-white staircase, and singing (well, dirty talking) to his lover on a pay phone.
While Jung Kook's dance sequences scream early 2000s male pop star, it's the one towards the end that truly sells the fantasy. After the singer hits a fire hydrant, he gives viewers one of the most underrated art forms in R&B: A dance number in the rain. There's always been something so iconic about seeing an artist hitting the illest two-step while drenched, and Jung Kook's rendition of this is a reminder this trope needs to come back.
Between "3D" and his Latto-assisted "Seven," Jung Kook's solo era has been an impressive sight to see.