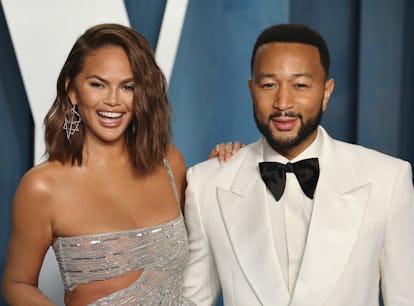 John Legend & Chrissy Teigen Quietly Welcomed Baby No. 4
"Our hearts, and our home, are officially full."
Arturo Holmes/FilmMagic/Getty Images
Chrissy Teigen and John Legend have a new baby on board! On June 28, the couple announced they have welcomed their fourth child, a baby boy, via surrogate. The duo posted their new bundle of joy, named Wren Alexander Stephens, in a photo carousel on Instagram. As a special honor to her new child, Teigen wrote a heartfelt note describing their surrogacy journey.
Teigen began the letter by stating she's always wanted to have four children. However, that reality became uncertain after losing her son, Jack, in a medically-induced abortion in 2020. "I've personally blocked out a lot of my mindset during that time, but one clear memory is being surrounded by people who wanted to make sure I wouldn't go through that pain and loss again," she wrote.
That following year, the couple reached out to a surrogate agency. Early on in the process, the cookbook author decided she wanted to "try to carry just one more time." They soon restarted the IVF process (which they used when having their eldest daughter Luna and second son Miles), and she became pregnant with their daughter Esti in August 2022. During her third pregnancy, the couple met a woman named Alexandra, who eventually became their surrogate for Wren.
"I knew [Alexandra] was a perfect match for us the moment we spoke to her. All our wishes and dreams aligned," Teigen wrote, revealing she and Legend chose their son's middle name as a tribute to Alexandra. "We are so happy to tell the world he is here, with a name forever connected to you, Wren Alexander Stephens."
In the last three slides of her post, Teigen shared a heartwarming photo of her kissing Alexandra's baby bump, snuggling with baby Wren, and a solo picture of him bundled in a blanket. Legend posted a similar carousel on his Instagram, and included a family portrait of him posed with all four children. "Wren Alexander Stephens, our new love," he captioned the post.
Congrats to the growing Stephens family.