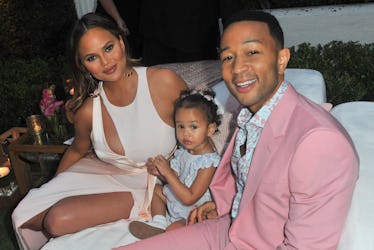 Chrissy Teigen Shared An Adorable Photo Of Miles Looking Exactly Like John Legend
Jerod Harris/Getty Images Entertainment/Getty Images
By now, you know for a fact that Chrissy Teigen and John Legend make the cutest babies that have ever graced this earth. First, we were blessed with little Luna, who is now a toddler (time goes by so fast, doesn't it?), and then, the couple welcomed a son, Miles, who was born in May 2018. We've been fortunate to watch the two siblings grow up through Teigen's social media (God bless), and now there's a new update on the littlest family member looking identical to his father. That's right, you guys. Chrissy Teigen's photo of Miles looking like John Legend will first make your heart burst from cuteness, then also make you do a double take.
I've had a pretty long week filled with breakups, breakups, and more breakups, and I could really use a break from all the ~drama~. Luckily, Chrissy Teigen knows exactly how to fix that: baby photos of her son, Miles.
The supermodel and cookbook author took to Instagram on Thursday, Oct. 25, to share a photo of Miles making a milestone and eating solid foods with a little baby spoon. While the photo itself is beyond precious (who can resist tiny baby hands and baby peach-fuzz hair?), it's the fact that he looks like a literal clone of John Legend that has fans and celeb friends freaking out.
Teigen captioned her post, "baby bear is eating!" but of course, the only thing people could focus on was the fact that Miles' face is a mini-version of her EGOT-winner husband:
Two notable people who noticed the uncanny resemblance were celebrities Trevor Noah and Lauren Jauregui, who commented on the photo and whose responses were re-posted to the popular Instagram account Comments by Celebs.
"That looks like you face swapped John onto a baby!" Noah wrote (and, honestly, he's not wrong).
"At least there'll never be a tabloid headline questioning the father," Jauregui hilariously quipped (also not wrong).
Just for reference, take a good, hard look at this photo of John Legend in a similar stance (baby food and spoon sadly not included):
TWINS!
I mean, it's not like this is a startlingly new realization. Let's take a look at some previous photos of Miles that *clearly* show he was on a path to looking exactly like his famous dad pretty much since day one.
The first photo Teigen shared of her newborn son proved that little Miles was on track to share the enviable gene pool from his dad:
In another update, we see Miles looking more and more like Legend. I mean, can you even deal with his little rolls?
Check out this face! Is this not a John Legend face?!
And lastly, a personal favorite:
Because tiny babies are the only species who can look painfully cute while drooling.
So there you have it, friends. If there was ever any doubt that Chrissy Teigen and John Legend don't create absurdly cute babies, you should know better at this point. The evidence is overwhelming, so I rest my case.