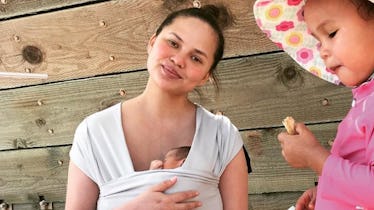 Chrissy Teigen Shared A Cute Photo Of Miles That Proves He's Growing Into A Mini John Legend
Instagram / Chrissy Teigen
I love being a part of Chrissy Teigen and John Legend's family. Don't you? I'm somehow more invested in what their children eat and what baby diapers they sponsor than I am with what's inside my own fridge or on my own butt. Their social media banter is on POINT. That's why it's so much fun when they post family updates — because it feels like it's your family, too. Take Teigen's latest picture of her sweet baby gentleman, for example. Chrissy Teigen's new photo of Miles has me doing a serious double take because he looks so, SO much like his dad, John Legend. It's kind of unbelievable how genes work like that. Ahhh, science.
You know how in the beginning newborns all look the same? (Is that too controversial? I don't care. They're all special snowflakes and whatever, but you guys know what I'm talking about.) Well, Miles is now hitting that age where his features start to develop and, holy cow, does this kid look like his father's twin. Teigen shared the sweet picture of baby Miles lounging on a sofa holding a pacifier, and it's clear he has more personality in his tiny baby nose than I do in my whole sort-of adult body. Teigen hilariously captioned the photo of Miles confidently sprawled across the couch lounging like a stud (binky in hand), "hello ladies."
I present to you: John Legend 2.0.
Right? I mean, RIGHT?! This child is so suave. Ladies of the future don't stand a chance.
The truth is, this family was destined to be the most beautiful. You don't just pop out as an average child when you're the son or daughter of a literal supermodel and multi-award winning musician. How do you think Teigen and Legend handle explaining to Luna and Miles that they're basically the chosen ones? "Listen, kids. You're kinda big deals..."
Based on the usual stalking I do of this family, I've deduced this picture of Miles was taken during a family vacation to Bali. Teigen shared the photo of her handsome son along with hilarious videos in her Instagram story of her and Luna unknowingly playing with a very poisonous bug, plus footage of her husband hitting the gym hard while she stands around and videotapes it.
Celebrities, they really ARE just like us!
Of course, Miles is like his dad in more ways than one. The kid is predisposed to some serious musical talent. He made his debut to the world just three days before the Billboard Music Awards (coincidence? I think not) and is named after the great Miles Davis. Legend revealed the meaning behind his children's names on the BBMA red carpet. "We named our first daughter Luna Simone Stephens, and every name we give to our kids will have a little bit of musical history," he said. "So Miles, of course, is the same name as the great Miles Davis."
Of course. Future generations will name their kids Miles after the great Miles Legend. I mean... Miles Stephens. His last name is actually Stephens.
Keep the pics coming, fam.
Check out the entire Gen Why series and other videos on Facebook and the Bustle app across Apple TV, Roku, and Amazon Fire TV.