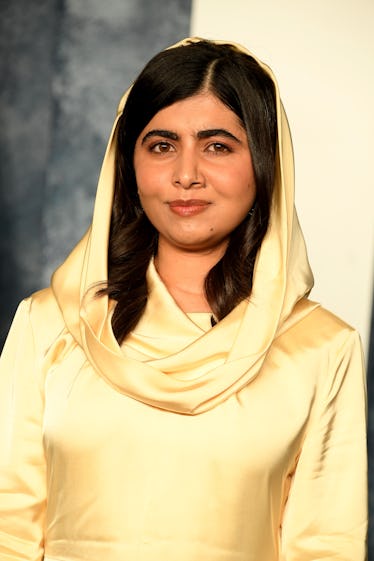 Please Leave Malala Alone
Jimmy Kimmel's Oscars bit didn't sit well with some viewers.
Steve Granitz/FilmMagic/Getty Images
The 2023 Oscars had some gleaming and unforgettably cringey moments. The latter seemed to come from host Jimmy Kimmel, who engaged in several antics during the show that left Twitter raising their brow. One specific moment came during the middle of the ceremony, when he went into the audience to ask celebrities fan questions about their nominated projects. He chatted with stars like Jessica Chastain and Nicole Kidman, but it was his awkward interaction with activist Malala Yousafzai that left a sour taste in viewer's mouths.
ICYMI, Kimmel did this segment as the stage was being set up for Rihanna's "Lift Me Up" performance. Around the 20-second mark of the video, he approached Malala with a viewer question, which started with the fan praising her for being the youngest Nobel Peace Prize winner. In 2014, she won the award for her fight for human rights and children to receive an adequate education at just 17 years old.
Instead of choosing a question that lined up with her expertise, Kimmel asked Malala about the most chaotic drama to stem from a movie last year: The Don't Worry Darling saga. Specifically, he asked her about spit-gate, an online theory that Harry Styles allegedly spit on Chris Pine at the Venice Film Festival. Don't worry, darling — Pine made it clear Styles didn't spit on him; however, that didn't stop the fan from asking Malala her thoughts on the situation.
"As the youngest Nobel prize winner in history, do you think Harry Styles spit on Chris Pine?" Kimmel asked. Malala briefly paused before saying, "I only talk about peace." That's not all, though. Kimmel then commended the activist for her poised response, stating: "That's a great answer, Malala. The winner is Malalaland." Oof.
Shortly after the ceremony, Malala took to Twitter and retweeted a video of the moment, reiterating her response. "Treat people with kindness," she captioned the post, alongside a peace emoji.
This isn't the only time Kimmel has done an odd bit at an awards show. At the 2022 Emmys, he and actor Will Arnett presented the award for Best Writing In A Comedy Series, which went to Abbott Elementary darling, Quinta Brunson. As part of their presenter gag, Arnett dragged Kimmel — who pretended to be unconscious — on stage and joked the talk show host had too many "skinny margaritas" that night.
As Brunson accepted her award, Kimmel didn't end his unconscious fad and stayed on the ground for her entire speech. The joke didn't land smoothly with viewers who felt Kimmel stole Brunson's shine and that she deserved a better moment considering this was her first Emmy. Two days after the show, Kimmel invited Brunson to his late-night show and apologized.
As for Kimmel's "Malalaland" joke, Twitter wasn't here for the interaction. To many users, it seemed tone-deaf to ask Malala about spit-gate in relation to her accomplishments. It only adds another layer of oddness once viewers realized she was at the Oscars in support of Strangers at the Gate, a short film she co-produced about dismantling Islamophobia. The movie landed her and original filmmaker, Joshua Seftel, a Best Documentary Short Subject nomination, so dissecting spit-gate was probably the least of their worries.
Here are some of Twitter's thoughts on the situation.
Demi Lovato's viral "stay away from her" meme became everyone's go-to response to Kimmel.
Twitter user @ungodlywests might be onto something with this. At least Malala got to see Rihanna perform, something she was admittedly excited to see.
Honestly, this sentence doesn't even sound real. In the video, someone dressed up as Elizabeth Banks' Cocaine Bear pestered her in the audience.
Kimmel hasn't responded to the "Malalaland" backlash.