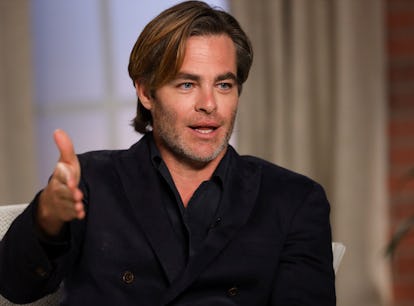 Chris Pine Finally Brought Spit-Gate To An End
Apologies to all the spit truthers.
Variety/Penske Media/Getty Images
At long last, the question that has plagued the internet for half a year has finally been answered. Harry Styles did not spit on Chris Pine. Ever since a suspicious-looking video of Styles seemingly spitting on his Don't Worry Darling co-star went viral last fall, fans have been obsessed with trying to figure out what happened. Well, Pine is now explaining it all, and he confirmed that spit-gate wasn't as dramatic as everyone thought.
The whole mess went down at the Sept. 5 debut of Don't Worry Darling at Venice Film Festival. When Styles was taking his seat next to Pine, he appeared to briefly open his mouth while facing his co-star, which caused Pine to react. Fans dissected the video over and over again, trying to confirm whether Styles spit on Pine or not, speculation fueled by the already ongoing rumors of drama between the Don't Worry Darling cast. Styles joked about the viral attention but never provided a clear answer to spit-gate. A representative for Pine categorically denied Styles spit on Pine, calling the whole thing "a complete fabrication." But Pine himself never said anything... until now.
Pine explained the whole misunderstanding in a March 1 Esquire interview. "Harry did not spit on me," Pine cleared up. "Harry's a very, very kind guy ... It does look, indeed, like Harry's spitting on me. He didn't spit on me."
OK, so spit-gate was a bust. Then what was going on between Styles and Pine in that weird video? Pine explained that his co-star was actually making a little inside joke in that moment. "He leaned down, and I think he said, 'It's just words, isn't it?'" Pine said. "Because we had this little joke, because we're all jet-lagged, we're all trying to answer these questions, and sometimes when you're doing these press things, your brain goes befuddled and you start speaking gibberish. So we had a joke, 'It's just words, man.'"
Funnily enough, that's the perfect statement to wrap up the whole spit-gate saga — it wasn't spit, it was just words.