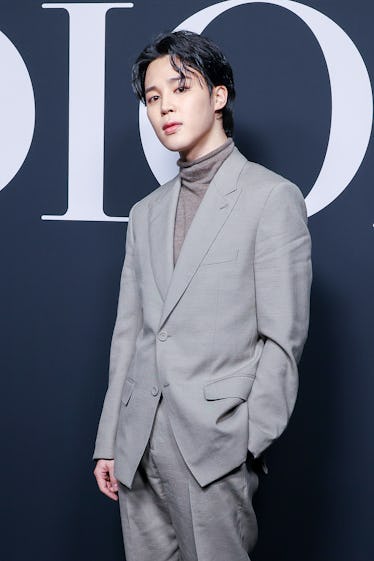 Jimin Almost Didn't Join BTS — Until This Member Convinced Him
The singer recalls the specific moment he changed his mind.
Marc Piasecki/WireImage/Getty Images
As one of the most popular K-pop groups in existence, it's hard to imagine BTS flourishing without all of its original members. Since their debut in 2013, the group has proven their star power lies in each member's different sonic qualities. From RM and SUGA's knack for delivering rapid-fire bars to Jimin acing those ringing falsettos, their music wouldn't hit the same without all these unique musical textures. However, there's a chance ARMY would've never witnessed Jimin's vocal talent, as he recently revealed he almost didn't join the group.
On Mar. 27, the "Like Crazy" singer appeared in a new episode of Suchwita, an online talk show hosted by fellow BTS member SUGA. Around the 25-minute mark of the video, Jimin spoke about his early days as a trainee at the group's agency, BigHit Music. While speaking about how long it took him to perfect his dancing style, he revealed he didn't see himself debuting with BTS at the time.
"When I first joined the agency as a trainee, I didn't have any ambition to be on the team because I didn't think [BTS] was my team," Jimin said. He then pointed to SUGA, sharing that it was because of him that he gained interest in being in the group.
With light laughter, Jimin recalled that specific moment the Agust D rapper encouraged him to be in BTS. "I still remember the lights were off, and we were in our beds. I think we woke up because [RM] was snoring, and you were on the top bunk," the singer said. SUGA turned to look down at him. "You said, 'You're a good singer, so I really want you to be on our team.' That was when my ambition sparked."
SUGA nodded, doubling down on his comment about Jimin's vocals. "I knew what your tone and your voice would sound like when you sang. No one else on the team had that tone, [so] I felt that you could become a singer with a unique voice," he said.
He then jokingly revealed he asked BigHit to train Jimin as a singer, even though they were already priming him as a rapper. After his one year of training, Jimin became the last member to join BTS in 2013.
OK, it's interesting to think the ARMY would've been devoid of Jimin's high notes without SUGA's input to the agency.