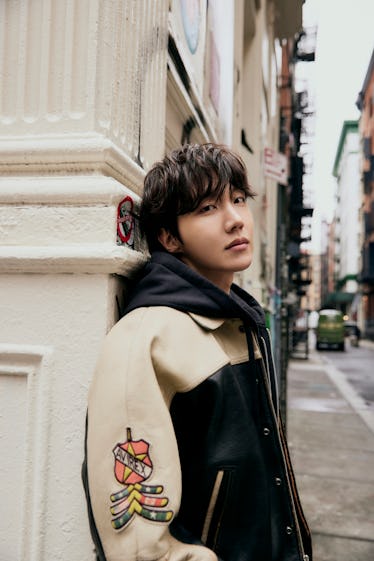 BTS' J-Hope Dropped A New Single With J. Cole, & It's Inspiring
It's his first song following his solo debut album.
BIGHIT MUSIC
Whether flowing on a grungy beat or keeping it mellow with soft synths, j-hope always drops inspiring musical gems. His lyrical pen excels when he's being vulnerable, as it normally culminates in him uplifting listeners to believe in themselves and dance. Considering his stage name includes the word hope, this skill is rather fitting. On Mar. 3, the BTS rapper teamed up with J. Cole for his latest inspirational effort, "On the Street." This track feels like a warm embrace from j-hope, who dedicates several verses to thanking the ARMY for their unconditional love and support over the years.
"On The Street" arrives less than a month after his thrilling documentary dedicated to his debut album, Jack in the Box. Guided like a butterfly with a whistle melody, this song is a reflection of j-hope's career and where he's heading in the future. J. Cole's feature — which is a surprising treat considering he hasn't released any solo work since last fall — only caps how much j-hope's career has evolved. IYDK, j-hope has always labeled the Dreamville rapper as his idol.
According to a press release, there's layers to this feel-good release. j-hope's inclusion of "street" in the title acts like a double entendre, so listeners can interpret the word as a path that everyone walks in life to achieve their dreams. On the other hand, "street" is also a nod to the rapper's former stint as a street dancer prior to joining BTS.
His past street dance origins glimmer in the accompanying music video. Beginning with him strolling in a New York alleyway, the performer bounces into several dance numbers while trekking through the crowded city. He looks so effortlessly cool, his smooth two-steps and glides vibing well with the track's lo-fi beat. Let's dive into the English translation behind this release.
j-hope kicks off the breezy melody with affirmation: Everything he's done in his career has been because of his fans. "Every time I walk/ Every time I run/ Every time I move/ As always, for us/ Every time I look/ Every time I love/ Every time I hope/ As always, for us," he raps, those whistles calmly mixing with the b-boy stylized production.
He then dives into his solo verse, which sees him sweetly defining his "path" as a mixture of "love and faith" from his fans. There's so much gratitude oozing throughout this release, and listeners can feel how amazed he is with the status of his career. J. Cole comes in around the two-minute mark, delivering a thought-provoking sermon about his nearly 15-year presence in the rap scene.
"On The Street" is such a feel-good anthem. Confessionals such as this truly humanize j-hope, and lets his music move like a diary entry rather than an overly produced track only designed for the charts. Check out the full lyrics to j-hope and J. Cole's new release below, which was translated from the official music video.
Chorus
Every time I walk
Every time I run
Every time I move
As always, for us
Every time I look
Every time I love
Every time I hope
As always, for us
Verse 1
My two feet walk willingly, anywhere
J in the air
For the path I'm on to become one of hope, I give my all
Even my walk was made of your love and your faith
To repay you even from afar, just like a butterfly
Pre-chorus
Now just walk lightly, whenever you want
Go on hopefully, wherever you walk
In the streets imbued with someone's breath
I leave my soul and my eternity
Everywhere
Chorus
Every time I walk
Every time I run
Every time I move
As always, for us
Every time I look
Every time I love
Every time I hope
As always, for us
Verse 2: J. Cole
Yeah
All hail the mighty survivor of hell
Plopped down from heaven to sell
Holy water that I scooped from the well
Fought tooth and a nail
Just to prevail amongst the ruthless as I move through the field
Feelin' worried in a hurry like a two-minute drill
To make a couple mil' off a lucrative deal
Selling train of thought, name a artist who could derail
You'll never see it like a n*gga hula-hoopin' in jail
I got a friend smart as fuck, but he stupid as hell
He swear that God ain't real
Since it ain't no way to prove it his self
As if the universe ain't enough
As if the volcanoes ain't erupt
As if the birds don't chirp
As if a trillion nerves don't work in the human body
Sh*t, who would I be?
Without the creator of this theater beside me to gently guide me?
Some days, I wonder if I need to pick a different hobby
I'm deep in with this rappin', it's all a n*gga know
I never didn't nothin' better, it's hard to let it go
But like a father watching his daughter
Walk down the altar with tears in his eyes
You gotta let her grow
And so I shall, but first, I been honing my style
Coldest around, with more quotables than what the quota allows
You see a top ten list, I see a Golden Corral, n*gga
As the moon jumps over the cowI contemplate if I should wait to hand over the crown
And stick around for a bit longer, I got a strange type of hunger
The more I eat, the more it gets stronger
The more it gets stronger
I said the more it gets stronger​​
j-hope, Cole World
Chorus [j-hope & J. Cole]
Every time I walk (Every time I walk, yeah)
Every time I run (Every time I run on to you)
Every time I move (Every time I move)
As always, for us (Do this for us now)
Every time I look (Every time I look)
Every time I love (Every time I love)
Every time I hope
As always, for us (On the street, I'm still)