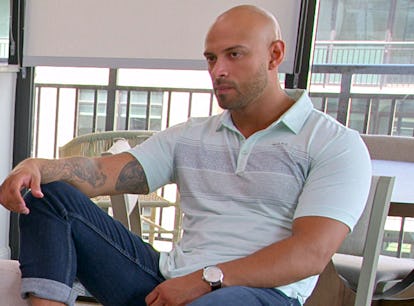 Izzy Says Uche Was Constantly Badmouthing Him During Love Is Blind
"I was just like, 'Why? What did I do to you?'"
Netflix
Spoiler alert: This post discusses the Love Is Blind Season 5 reunion.
The biggest villain at the Love Is Blind Season 5 reunion was someone who wasn't even there. Despite turning down the invitation to appear, Uche was everyone's target during the get-together. It turns out he didn't just hurt Aaliyah — the whole cast seemed to have their own issues with Uche, especially Izzy. There was never any real confrontation shown between Izzy and Uche, but Izzy tells Elite Daily that the tension between them reached a boiling point shortly after filming.
Viewers were taken by surprise when Izzy seemed the most incensed out of the whole cast when Uche's name came up. Apparently, the two had been secretly feuding throughout Season 5 and the bad blood got worse after the show.
"Basically, what happened was, I thought all the guys were on good terms in the pods. Then, when I got back from Mexico, I started hearing from some of the girls that Uche was saying he didn't like me, that he thought I wasn't a good person," Izzy says.
The behind-the-back insults confused Izzy. "I never understood why or where that was coming from," he says. "I was just like, 'Why? What did I do to you? I thought we were friends. I don't know if I did something to you or what.'"
The badmouthing continued after filming for the season was over. "It just kept happening," Izzy says. "I kept hearing it. Even when me and Stacy reconnected, we were all there for drinks. He was there too. While I was going to the bathroom, he [was] telling Stacy stuff about me."
Despite the drama, and how upset Izzy was at the reunion, he says that he and Uche are "cool" now. He recalls how Uche apologized, and shifted the blame to Izzy's other nemesis, Johnie.
"It's not a huge deal. We're over it now," Izzy says. "He said he's sorry, and he was saying those things because of whatever Johnie was telling him. He was like, 'Now that I see ... the truth about Johnie and how she is, I see you're actually a really good guy.'"