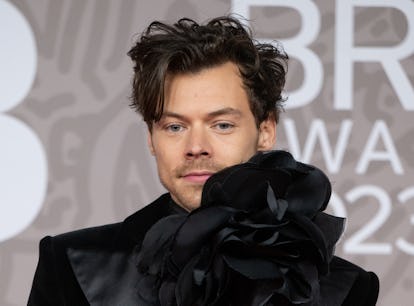 Harry Styles' Mom Is Fed Up With People Bashing His Buzzcut
Please reach out to the Harry Styles fan in your life, because they are not OK right now. New photos of the singer reveal that he has gotten rid of his most signature trait: his long, curly hair. Sure, Styles has cut his hair before, but never to this extreme. The singer is now rocking a complete buzzcut, leaving fans in mourning over the loss of his luscious locks.
Styles kept a low profile when he attended U2's Nov. 1 concert in the Las Vegas Sphere with his rumored girlfriend Taylor Russell, but in the week since the show, photos have surfaced of the rock star with a completely shaved head. Two weeks later, Styles officially debuted his shaved head in an Instagram post for his brand Pleasing. The new look came as a massive shock to fans, given that Styles has been adored for his hair all throughout his career.
When Styles first appeared on The X Factor in 2011, he rose to popularity just as much for his swoop-y, lush head of curls as his voice. He continued to grow his hair out throughout his time in One Direction, reaching its peak length in 2015 when his tresses fell below his shoulders. But when the group disbanded, Styles got a drastic haircut to launch his solo career. Ever since then, he has rocked a mid-length coif that still shows off his natural curls.
But this recent chop is an even bigger shot to fans' hearts than that 2016 haircut. At least back then, Styles kept a good amount of his iconic hair. Now, he's completely bald. And longtime Styles fans are grieving the loss.
For Taylor Swift fans, the sudden buzzcut happened at an interesting time. Styles debuted the new look just a couple days after Swift released her re-recorded version of 1989, which included newly released vault tracks widely speculated to have been inspired by Styles.
In "Now That We Don't Talk," Swift sang about the aftermath of a difficult breakup, noting that her ex "grew [his] hair long" after the split.
There was one person vocally defending the haircut, though. Styles' mother, Anne Twist, took to Instagram on Nov. 17 to respond to all the "negativity" she'd noticed around her son's hair choices.
"When you consider that H has a legacy of kindness and inclusion, has always made every effort to make everyone feel seen and appreciated for exactly who they are … there's an irony in the negativity he's been shown for having a haircut," Twist wrote. "Sorry but I don't get it," she concluded, adding the hashtag for Styles' song, "Treat People with Kindness."
Her IG post included a headline in which a fan claimed the haircut "ruined [their] entire life." Twist offered up her own alternative headline: "Breaking news: It's hair! It's his! Also it will grow back. If he wants."
Despite his mother's efforts to mitigate the shock, this is definitely the end of an era for fans of the superstar. And it's sure to indicate a whole new artistic direction for Styles, so we'll just have to wait to see what Hairless Styles is giving on his next project.
This article was originally published on