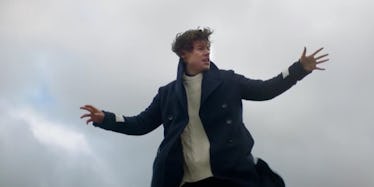 Harry Styles Is Being Compared To God Over This 'Sign Of The Times' Video Scene
YouTube
Harry Styles just made your Monday a little easier to bear.
The former One Direction star dropped his video for "Sign of the Times" this morning, and fans are rightfully losing it.
We first got a glimpse of what Harry Styles' first solo video would look like when paparazzi photos leaked from the video shoot back in April.
How could we forget this TERRIFYING stunt double?
The video shows Harry suspended in the air, flying above trees and grass and water and a bunch of other things.
At one point, he gets close enough to the water to walk on it.
If the Harry Styles fandom didn't already have enough reason to worship him, this move just solidified him as an actual living God.
"Sign of the Times" is the first single off Harry's solo album.
Harry Styles also announced his first solo world tour on April 28, but tickets went on sale this past Friday and sold out within minutes.
If the heartbreaking "Sign of the Times" track isn't enough for you to get all your emotions out, Harry also released a second song off his album earlier this month.
The track, called "Sweet Creature," is just as emotional as "Sign of the Times." The lyrics read,
Sweet creature, sweet creature Wherever I go, you bring me home Sweet creature, sweet creature When I run out of rope, you bring me home Sweet creature We're running through the garden Where nothing bothered us But we're still young I always think about you and how we don't speak enough
Harry revealed that he may have one woman in mind when it comes to a lot of his lyrics (some are rumored to be about Kendall Jenner). He told Rolling Stone,
She's a huge part of the album... Sometimes you want to tip the hat, and sometimes you just want to give them the whole cap… and hope they know it's just for them.
Get more of your Harry Styles fix when his full album drops on Friday.
Citations: Harry Styles Takes Flight and Walks on Water in "Sign of the Times" Music Video (E! Online)